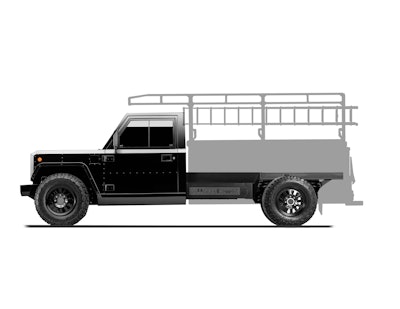 Bollinger Motors recently announced plans to produce and sell the all-electric B2 Chassis Cab.
The Bollinger B2CC is the world's first and only Class 3 all-electric chassis-cab truck platform, and it offers unlimited work truck variants.
"The Bollinger B2 Chassis Cab's unique features – including the 5,000-lb. payload and large energy source to power tools – make it perfect for businesses, small and large," says CEO Robert Bollinger. "Commercial fleets will be able to reduce their overall cost of operation while buying a truck designed, engineered, and built in the USA. The B2CC is an ideal option for municipalities, parks services, emergency response vehicles, airports, construction, landscaping, electricians, plumbers, security, non-tactical military, and more."
Special thanks to Bollinger for taking the time to answer some follow-up questions.
HWT: Any word yet on who'll be handling production?
Bollinger: To be announced.
HWT: Any changes in range for commercial applications?
Bollinger: Our 200-mile range for the full B1 and B2 means the stripped down Chassis Cab will have around 225, but then will come back down depending on the amount of truck body added and how the truck is used. We'll have scenarios in detail closer to production so that customers can see in advance.
HWT: Any commitments from [partner] businesses or organizations yet?
Bollinger: To be announced.
HWT: The ability to literally wash out the interior of a Bollinger pickup will appeal to fleets, especially in this age of ultra-vigilant sanitation. Any other features that you think will appeal to fleets?
Bollinger: There are huge incentives in California for fleets turning to EVs, including a $50,000 instant rebate at time of purchase. A business buying our Chassis Cab over the competition will be doing so in order to get the pass-through feature, better ground clearance, the hydropneumatic suspension, the 5000 lb. payload, the bidirectional charging, etc.
HWT: Please speak to the maintenance requirements and how fleets will save $$$ and time in caring for the B2 chassis cab.
Bollinger: Total cost of ownership for ICE vehicles includes many variables: vehicle purchase price, fuel costs, brake pad and rotor replacements, engine oil changes, engine rebuild/replacement at specified intervals, transmission rebuild/replacement at specified intervals, and at times could potentially include estimated penalties for health issues of operators due to breathing diesel fumes. There is also sometimes a productivity advantage to a vehicle with higher capabilities for acceleration under extremely high stop and start drive cycles. If all of these factors are considered over a sufficiently long vehicle lifetime it is possible that total cost of ownership over the life of the vehicle could become positive for electric over ICE. Diesel engines are prevalent in these fleets today due to their generally longer durability compared to gasoline engines, even though they are also much more expensive to purchase up front. In addition, diesel engines are becoming more and more expensive to purchase due to phase-in of more stringent emissions regulations and the required after-treatment equipment needed on the vehicle to pass emissions testing. Further, diesel engine operating costs have risen substantially with the added requirement for DEF in addition to base diesel fuel costs.
HWT: When will interested fleets be able to test drive a B2CC?
Bollinger: We'll have prototypes in early 2021.
HWT: 2021 is just around the corner. Any idea on pricing yet?
Bollinger: To be announced.
The Bollinger B2 Chassis Cab will be built on the patent-pending Bollinger Motors E-Chassis all-wheel drive base that underpins the Bollinger B1 Sport Utility Truck and the B2 Pickup. It will be available in both 2-door and 4-door cabs and on multiple wheelbase lengths.
Features of the patent-pending Bollinger B2 Chassis Cab include:
 Two-door or Four-door cab
 Various wheelbase lengths, based on desired customization
 Patent-pending passthrough for storage of long items
 120 kWh battery pack
 All-wheel drivetrain
 All-terrain capabilities
 Dual motor
 Portal gear hubs
 5,000 lb. payload
 Ultra-low center of gravity
 Hydraulic anti-lock power brakes (ABS)
 Electronic traction control
 Electronic stability control
 Hydraulic power steering
 Hydro-pneumatic self-leveling suspension
 Independent front and rear suspension
 10kw on-board charger/inverter
 Complete power system controls, configurable to given vehicle application
 Integrated thermal-management system
The Bollinger B2 Chassis Cab will be made available to commercial outfitters in late 2021 in both full cab and cutaway-cab variants.
Bollinger Motors filed the provisional patent application for all-electric Class 3 vehicles on
November 18, 2019. The patent application number is 62936929.