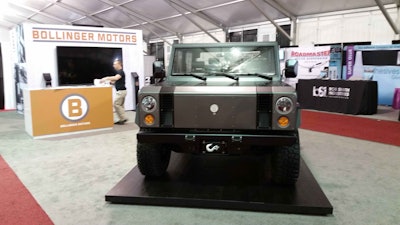 Bollinger recently announced that its electric chassis platform used in its truck and SUV prototypes is also ideal for commercial vehicle use.
Bollinger founder and CEO Robert Bollinger explained more during a Q&A with Hard Working Trucks.
HWT: Has Bollinger subjected its platform to any commercial vehicle testing? If so, please describe.
Bollinger: The platform itself is being tested on its own. Next step is to marry it to a commercial vehicle body, then let an end customer do field testing. That will hopefully start later this summer.
HWT: Who will be manufacturing the platforms?

Bollinger: To be announced soon.
HWT: What kind of applications and duty cycles does Bollinger envision for the Class 3 platform?

Bollinger: There are a lot of applications for our Class 3 platform: Cab-on-chassis work truck using our cab, delivery vans, airport shuttles, mining trucks, bucket trucks, rescue vehicles, safari and game vehicles. Just about anything that needs an extremely durable and powerful frame, chassis, and drivetrain.
HWT: Please explain how the 5-15kW on-board charger/inverter and other features can prove beneficial to fleets.

Bollinger: We will offer a range of onboard charger / inverters based on their needs. The smaller inverter will be for those customers who don't need to use export electricity during the day, like a delivery van. But a rescue vehicle might need it. The different inverter options can give each customer just want they need.
HWT: Is fast-charging a sound option for fleets? The University of California at Riverside released a report stating that fast-charging leads to faster battery degradation and can also compromise cells to the point of flammability and/or explosion.
Bollinger: Fast charging will not be used by certain fleets. Delivery vans will charge overnight and will be able to do so at Level 2. Rescue vehicles might do the same, but they might also fast charge more often in the field. Our platform will allow Levels 1-3 charging so they'll always be able to choose. But we'll definitely show fleets how best to charge.
HWT: Will Bollinger be training fleets on how to service and maintain their EVs?
Yes. We'll provide training for service, maintenance, and best practices for daily use to optimize the range.
HWT: What kind of role will Bollinger play in setting up a charging infrastructure for fleets?

Bollinger: We are in talks with third-party providers to assist with charging infrastructure. That isn't our core intelligence, but we'll be teaming up with the right company for this field.