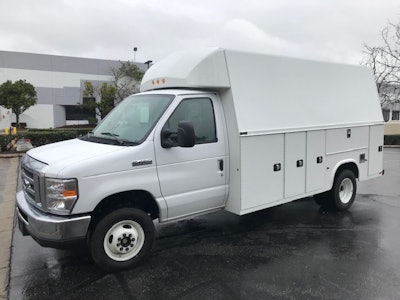 Concern over increasing air pollution drove the City of Colton, California to acquire a zero emissions electric utility van which is expected to reduce carbon dioxide levels by 60 tons per year compared to a conventional van.
Colton is located in San Bernardino County in Southern California where last summer that county along with Los Angeles, Orange and Riverside counties were hit with a record-breaking 87 consecutive days of bad air quality.
"The ozone pollution spell began June 19 and continued through July and August, with every day exceeding the federal health standard of 70 parts per billion," the Los Angeles Times reported last September.
In its quest to help lower emissions, Colton turned to Phoenix Motorcars, located in nearby Ontario, Calif., for an all-electric utility van built on a Ford E-450 chassis and spec'd with a Knapheide KUV body. Payload and towing are rated at roughly 4,000 and 8,000 pounds respectively. The van's range of 110 miles can be extended.
"With Level III DC Fast Charging (CHAdeMO) ports as a standard feature on all vehicles, the daily range of our vehicles regularly exceed 130, 140 miles a day when incorporating fast charging into their route schedules," said Phoenix Motorcars vice-president of sales, Tarek Helou.
Phoenix builds other EVs on the E-450 chassis including cargo vans, service trucks, flatbed trucks, box trucks, shuttle busses and paratransit/ADA shuttles. Each model features dual charging capabilities: Level II (Regular Charging J1772 approx. 8.5 hours from zero to full) and Level III (DC Fast Charging CHAdeMO approx. 3.5 hours zero to full).
City leaders in Colton believe the electric utility van will help them reach their goal of lowering community-wide greenhouse gas emissions 15 percent below their 2008 GHG emissions level by 2020. The van will be used by the city's public works department for irrigation services.
"I am looking forward to city staff enjoying all the benefits I experience driving an all-electric car to work. It's healthier for our environment and meets our sustainability goals. As a city we need to lead by example," said Jessica Sutorus, environmental conservation supervisor for the City of Colton.
Aside from lowering emissions, Phoenix Motorcars Utility reports that its electric vehicles also offer significant cost benefits over the total life of the vehicle.
"We provide our clients with substantial savings in fueling and maintenance costs," said Emad Fakhoury, CEO of Phoenix Motorcars. "We are excited to partner with the City of Colton, forward-thinkers, whose goal is to promote sustainable transportation and reduce atmospheric emissions."