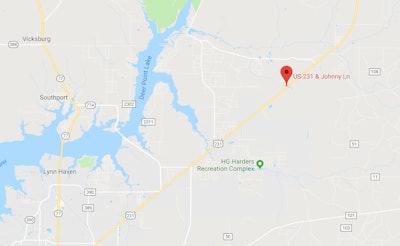 A tow truck driver and his passenger were both seriously injured today after the truck slammed into a utility truck along U.S. 231 in Bay County, Fla.
According to the Florida Highway Patrol, the 24-year-old driver of the Ford F-650 tow truck was traveling in the southbound, outside lane of the highway when he struck a stationary Gulf Power utility truck around 3 a.m. The tow truck was hauling a vehicle at the time. The force of the impact sent the utility truck crashing into another Gulf Power truck nearby.
Both utility trucks, which were unoccupied at the time, were parked on the road as crews worked to replace a nearby utility pole. The right lane had been shut-down at the time of the collision, according to mypanhandle.com. The tow truck driver was cited for careless driving.
Bay County is located in Northwest Florida about 100 miles west of Tallahassee. More utility trucks have been present in the area following Hurricane Michael, a deadly and devastating Category 4 storm that made landfall in October destroying businesses, homes and roughly 7,000 utility poles.