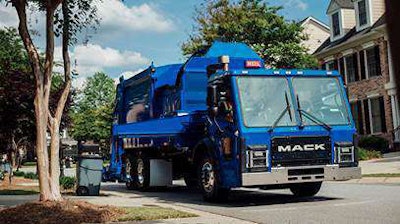 Mack Trucks is adding a standard passenger side sliding glass window for better visibility and Sears C2 PLUS air suspension seat for improved comfort to its LR model.
At the Canadian Waste and Recycling Expo at the Enercare Center, Toronto, Mack also said an exterior stainless steel sun visor and 315 series tire coverage for the Hendrickson HAULMAAX suspension are now available for order.
Curtis Dorwart, refuse product manager for Mack Trucks, says the new sliding glass window improves ventilation and allows easy access to the passenger side mirror during right-hand stand-up or sit-down operation. The exterior stainless steel sun visor, available as an option, improves heat deflection and reduces glare.
The Sears Seating C2 PLUS air suspension seat offers a more comfortable ride, while a Sears Seating multi-position right-hand seat is standard for customers who spec right-hand operation LR models. The multi-position seat, engineered exclusively for the Mack LR, enables more adjustability for right-hand operators whether standing or sitting, as both the seat back and seat base are adjustable.
Also now available for order on Mack LR and TerraPro models is TMC RP170A, a set of chassis-to-body electrical interface guidelines for refuse trucks. The electrical interface was developed through industry collaboration by the American Trucking Associations' Technology & Maintenance Council (TMC), and allows for easier upfit, standardization and ease of troubleshooting and maintenance.
Mack's 11-liter MP 7 diesel engine is standard in the LR model, delivering up to 355 horsepower and 1,260 lb.-ft. of torque. The LR is equipped with an Allison RDS five-speed or six-speed automatic transmission.