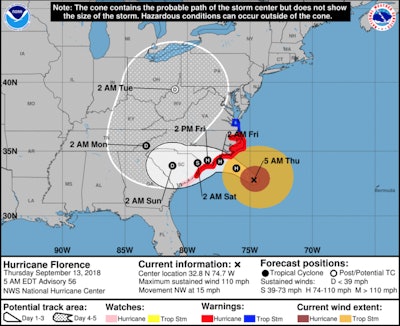 Hurricane Florence was downgraded to a category 2 storm Wednesday night and forecast to take a more southerly route as government officials and utility companies continue preparing for the storm's Thursday arrival from Virginia to Georgia.
South Carolina and North Carolina were still projected to receive the worst of Florence which in its 5 a.m. advisory this morning the National Hurricane Center reported was traveling northwest at 15 mph with maximum sustained wind at 110 mph. The eye of the storm is expected to make landfall near Wilmington, N.C. around 8 a.m. EST Friday.
Nearly 1.5 million people face mandatory evacuation along the East Coast where flooding from intense rain and storm surge is expected. To help speed up the exodus major routes in South Carolina, including Interstate 26, were open to reverse traffic flow which ends today.
On Wednesday, the Federal Motor Carrier Safety Administration announced it had added Tennessee and Kentucky to its list of states under the regional emergency declaration, bringing the total to 13 states and Washington, D.C.
FMCSA's declaration includes Florida, Georgia, South Carolina, North Carolina, Virginia, West Virginia, Maryland, New Jersey, Pennsylvania, New York and Delaware, along with D.C. The declaration exempts truck drivers providing direct support of relief efforts related to the hurricane from Parts 390 through 399 of the Federal Motor Carrier Safety Regulations. The declaration is effective immediately and will remain in effect through the duration of the emergency, or through Oct. 10, whichever is less.
Utility companies from other states continue to send trucks, equipment and personnel to help restore power in the wake of the storm.
No stranger to devastating storms, Gulf Power in Pensacola, Fla. reported that it will be sending a team of 76 storm responders Thursday morning to help with power restoration in the Carolinas.
The Gulf Power team — 50 lineworkers and 26 support personnel — will drive north and wait for the storm to pass before beginning their restoration work. The storm team includes an advance group who determines the scope of the damage before crews arrive.
On its Facebook page, TECO Energy out of Tampa, Fla. reported that it's also sending crews ahead of the storm to help.
The U.S. Department of Transportation Maritime Administration announced Wednesday that it was loading up its Ready Reserve Force vessels with emergency response equipment including dump trucks, front loaders and boats to aid in recovery and clean-up. The ships will weather the storm and unload once it passes.
North Carolina Department of Transportation reported that it had 2,384 employees at the ready along with 1,480 trucks, 1,275 chain saws, 180 front loaders, 245 motor graders, 228 backhoes, 3,326 barricades, 1,748 road-closed signs and 3,322 high water signs.
All lane reversals will go back to normal on Thursday (9/13). The U.S. 501 reversal will end at 12 noon.

— SCDOT (@SCDOTPress) September 12, 2018
https://twitter.com/NCDOT/status/1039969416186875904
.@DOTMARAD activated its SafeStor capability where Ready Reserve Force (RRF) vessels can be loaded with emergency response vehicles, boats, personnel, and supplies. These RRF vessels can weather #HurricaneFlorence, and immediately assist in recovery efforts. pic.twitter.com/PsNUvGm4Il

— TransportationGov (@USDOT) September 12, 2018
Troopers leading traffic to US 501 at SC 276 using the eastbound lanes in Horry County. This is where the US 501 lane reversal comes to an end. It begins at the Conway Bypass. (Source: Kyle Berry) pic.twitter.com/9VQZ9sVMCS

— SCDOT (@SCDOTPress) September 11, 2018