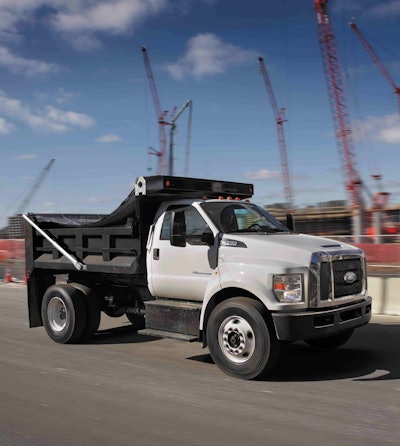 Ford F-650 and F-750 trucks were completely redesigned for 2016, but 2018 models will come equipped with several enhancements aimed at boosting safety, performance and serviceability.
Updates to Ford's heaviest truck lineup for next model year will include an available high-output 240-amp alternator for F-650 and F-750 trucks equipped with the V10 gasoline engine, an optional automatic regeneration inhibitor on diesel models, relocated oil and transmission fluid dipsticks and an available three-inch extension for the full-width front bumper on all models.
Also for the 2018 model year, electronic stability control and traction control brakes will come standard on all 2018 F-650 and F-750 tractors. The system will initially be optional on certain F-750 diesel air-braked straight trucks with high-center-of-gravity-body upfits.
The high-output 240-amp alternator was designed tor tow trucks, road service vehicles and other truck applications with high electrical demands and equipped with a 6.8-liter V10 gasoline powertrain. Ordering the higher output alternator to power auxiliary lights and equipment can eliminate the need to specify a second alternator or generator.
The available bumper extension, which was designed to limit potential hood wear and front-end collision damage, moves the full-width front bumper from flush with the grille to three inches in front of it while providing additional protection to the grille and components behind it in case of a collision.
Relocated oil and transmission fluid dipsticks can be accessed from ground level on 2018 F-650 and F-750 diesel trucks. The transmission fluid dipstick has also been moved to provide ground-level access on gasoline models. The gasoline engine's oil dipstick was already accessible from the ground.
An optional automatic regeneration inhibitor on F-650 and F-760 diesel trucks were designed to give the operator more control over regens to clean the diesel particulate filter.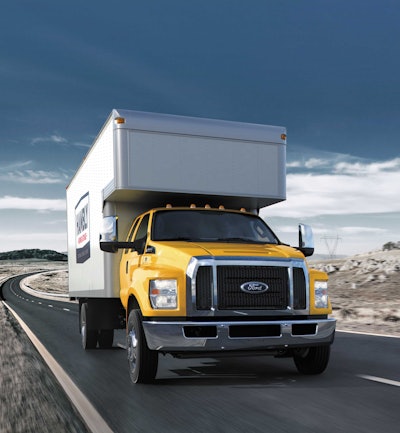 Ordering for 2018 Ford medium-duty F-650 and F-750 trucks begins this summer, with deliveries expected in the fall.
Among the holdovers from 2017, both engines – a 6.7-liter Power Stroke V8 turbo diesel engine and 6.8-liter V10 gasoline engine – will continue to be equipped with the Ford-built TorqShift heavy-duty six-speed automatic transmission.
An available live-drive power takeoff provision features an output gear linked directly to the diesel engine crankshaft for 300 lb.-ft. of stationary torque and 200 lb.-ft. of mobile torque. For the gasoline powertrain, the optional power takeoff's stationary and mobile mode deliver 250 lb.-ft. and 125 lb.-ft. of torque, respectively.
The transmission's SelectShift feature has two driver-initiated modes – progressive range select, which limits the range of gears to lock out overdrive for consistent speed over hills, and full manual mode, which provides control up and down the gearbox. Selectable tow/haul mode compensates for grade and load to reduce gear hunting and improve power delivery. Engine braking and selective gearing improve control on downhill grades and help minimize brake wear.