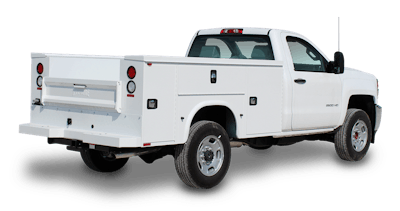 Work Truck Solutions, the online platform for commercial truck inventory searches by body type and chassis, has partnered with Knapheide to help dealers show their in-stock Knapheide commercial vehicle inventory to truck buyers with the click of a button.
Using Work Truck Solutions' new national work truck locator feature, customers can find Knapheide-equipped work trucks at their local dealership in a matter of minutes by searching for a specific body type and chassis in their desired area.
"Working with Knapheide, we created a consolidated listing that highlights ready-to-work inventory at dealerships that purchased through Knapheide's distribution network," said Work Truck Solutions CEO Kathryn Schifferle. "The Knapheide brand is well-established, and with six generations of commercial vehicle manufacturing success, they were an ideal partner to help our expanding network of dealers make use of this inventory solution."
The number of unique commercial vehicles and pickups currently being displayed in Work Truck Solutions' inventory network and available through their search tools has increased 321 percent from September of 2015 to September of 2016 and continues to grow. Dealers using their solution also have the opportunity to track what customers are searching for with analytics and use that information to improve inventory stocking and management.
"We're pleased to support our distributors and dealer partners by highlighting their inventory of work-ready vocational solutions — from mechanics trucks to vans to fuel lube trucks —in an easy-to-use inventory search tool," added Mandar Dighe, Vice President of Marketing at Knapheide.
For more information on Work Truck Solutions, visit www.worktrucksolutions.com or to become part of a growing network of manufacturers and dealers using their inventory solutions, please email info@worktrucksolutions.com.