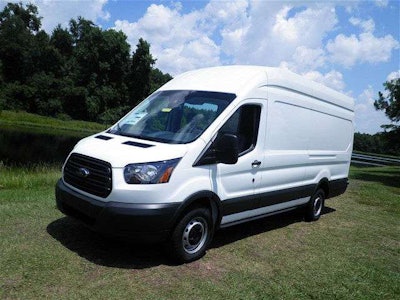 A recurring problem inspired Work Truck Solutions founder and CEO Kathryn Schifferle to create an online vocational truck and van inventory database.
When a utility truck or work van suddenly went out of service, fleet managers would have to get busy calling dealers to spec a replacement. The search was often frustrating, given all the options for vocational vehicles and the fact that a replacement was needed as soon as possible.
That's when Schifferle, who's worked in vocational truck publishing, set out to put together an online network of dealer inventories that would empower both dealers and buyers to more quickly connect to find the right work truck or van–even before setting foot in the dealership.
Through Work Truck Solutions database buyers can easily search dealers' inventories by make, model, year, body type, roof height, drive train, rear wheels, fuel type, wheelbase, etc. The online service has caught on fast. (Click here to see a dealer's website that's paired up with Work Truck Solutions.)
Since launching worktrucksolutions.com in 2013, major OEMs have signed up for the inventory service, including FCA, Ford, GM, Isuzu and Nissan.
"Initially, we launched with Ford Motor Company. We started in the Pacific Northwest and then we started expanding across the U.S. In 2014, we started working with other OEMs," Schifferle told Hard Working Trucks.
"We're trying to help the whole industry make it more transparent on where these finished vehicles are, what they are and who is interested in having them."
Dealers who participate can also track their inventory to see what buyers are searching for the most through Google Analytics.
Work Truck Solutions also publishes collective search information that reveals the overall most popular body types. For instance, nearly 19 percent of roughly 72,000 buyer searches that took place during the first quarter of 2016 focused on service bodies. Twenty-three other body types with search percentages are listed.
Work Truck Solutions members have the option of joining the Online Dealer Trade Network. This allows members to display specific vehicles on other dealers' sites, helping them to move hard to sell vehicles.
Screen shot of Ricard Ford's website paired up with Work Truck Solutions database search system. Story continues below.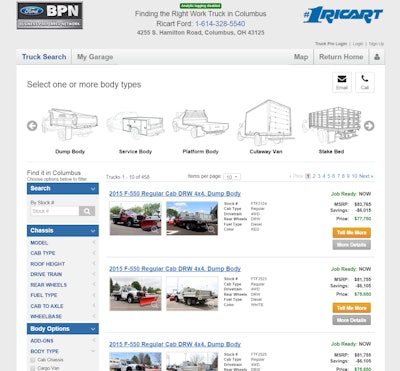 Other dealers' vehicles can be displayed on a member's site. These vehicles are displayed with a disclaimer saying they're available through trade and have no dealer branding. Dealers have complete control over which vehicles they share or show.
Fleet management companies like Donlen and ARI can easily view a dealer's inventory and contact them about a specific vehicle.
Membership is $495 per month, with 50% co-op pre-approved by Ford Business Preferred Network, GM Business Elite, RAM Business Link and Isuzu. Buyers search for free. A 'Work Trucks' button appears on a dealership website. Buyers click it to see a detailed, professional display of inventory that allows for tailored searches.
Ken Taylor, president of fleet and commercial consulting company Taylor & Associates, endorsed Work Truck Solutions on their website.
"I have been training and consulting with commercial and fleet dealerships for fifteen years. One of the biggest shortcomings of commercial and fleet departments is both the website and web marketing," Taylor said.
"The single best way to solve this issue and my main recommendation is utilizing the services of Work Truck Solutions. Instead of a prospect taking 6 to 8 mouse clicks to find the right vehicle they can do it in 2 clicks with this great product. The dealerships who use Work Truck Solutions see a return on investment quickly with increased traffic and increased sales. It is one of those 'no brainer' programs that are guaranteed to get results!"