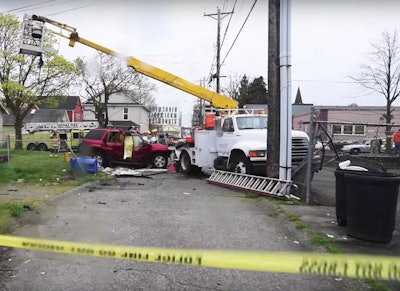 A utility truck operator involved in a deadly collision with an SUV managed to remain in his lift bucket even after his truck was slammed 30 feet from where it had been parked.
All three people inside the SUV were killed after it crashed into a utility truck that had been in the middle of a wiring job in an alley in Tacoma, Washington.
A man who was inside the lift bucket about 20 feet in the air managed to remain inside the bucket during the March 23 collision, which witnesses said sounded like an explosion, according to The News Tribune.
The man was taken to a local hospital after complaining of a hurt hip. His coworker, who had been inside the utility truck, suffered some scrapes but didn't require hospitalization.
Police said they're not sure why the SUV had been speeding down the alley.