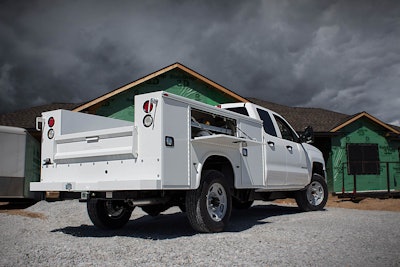 Knapheide Manufacturing Company, says it will unveil a full lineup of commercial pickup truck caps and bed covers as well as new service body offerings this week at the 2015 Work Truck Show.
Knapheide says its KnapKap commercial pickup truck cap offerings will be enhanced with the introduction of a full range of fiberglass, aluminum, and steel products co-developed with SnugTop.
The new EC-Series of steel service bodies from Knapheide are specifically designed and tailored for midsize and 1⁄2-ton pickups with bed delete options. By optimizing the design and materials incorporated in the EC-Series bodies, customers can maximize the utility and capacity of these new products while also benefiting from the organization and security of a Knapheide Service Body.
"As OEMs continue to launch new, innovative, and efficient vehicles into the work truck market, Knapheide will continue to develop and offer products allowing end users to maximize the utility and functionality of these new offerings," says Bo Knapheide, Senior Vice President.
These new product launches expand on Knapheide's current product offerings and further solidifies the company's reputation of providing the widest range of commercial vehicle solutions in the industry. As with all Knapheide products, KnapKaps and EC-Series service bodies are backed and supported Knapheide's warranty protection and a nationwide network of over 200 distributors.