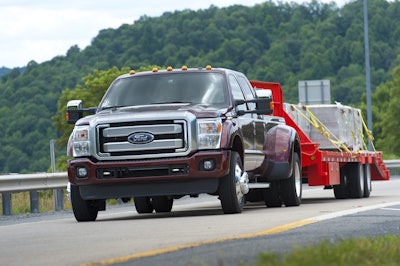 California Air Resources Board gives ROUSH CleanTech green light to retrofit 2012-newer fleet vehicles
ROUSH CleanTech has earned California Air Resources Board (CARB) retrofit certification for all Ford 6.8-liter vehicles for model years 2012 to 2015.
ROUSH CleanTech is the first company to receive this certification for propane autogas.
Any 2012 – 2015 model year Ford E-450, F-450, F-550, F-650, F-53 and F-59 vehicles can now be converted to run on propane autogas in all 50 states, making it easier for U.S. fleet operators to transition to this clean-burning, domestically produced alternative fuel.
"We've seen increased demand for medium-duty trucks powered by propane autogas," said Todd Mouw, vice president of sales and marketing. "These high-mileage workhorses can be converted to autogas well into their long life and still provide a smart return on investment."
In addition to the new CARB retrofit certification, ROUSH CleanTech continues to offer a wide range of CARB-certified, dedicated liquid propane autogas fuel systems for pre-title installation.
Ford models include F-series trucks and E-series vans. These propane autogas powered vehicles offer equivalent horsepower, torque and towing capabilities as conventionally fueled counterparts.
ROUSH CleanTech is the only Ford Qualified Vehicle Modifier for propane autogas fuel systems. All of ROUSH CleanTech's system components have been designed, developed and integrated in collaboration with Ford.