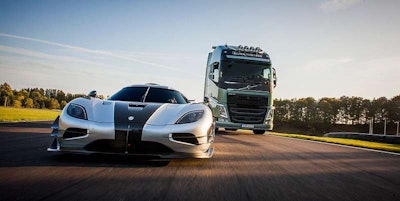 Has Volvo Trucks gone too far this time? The Fun Trucks Friday staff say "Of course not!"
The company is, by most measures, the reigning truck champion of self-promoting stunts and videos that go viral on the Internet.
Remember Jean-Claude Van Damme's splits? The FMX truck suspended from a port crane, hanging on by its frame – and with a Volvo executive on the nose, narrating the clip? Sure you do.
The latest effort in "made you look" PR puts Volvo's new FH truck, the first to offer a dual-clutch automatic transmission, on the racetrack against a car – and not just any car.
"It's just like the gearbox in the Koenigsegg," the video touts.
Now, some of you hard working truck folk may not be familiar with the Koenigsegg One:1, a name that signifies the horses under the hood equal the car's weight (1,360 metric hp to kilograms), and that goes along with 1,000 lb-ft of torque. That's for a car, mind you.
Not that the FH is a 90-pound weakling. But 540hp and 1,900 lb-ft of torque can't be expected to power 17,000 pounds of tractor around the course and be at all competitive with a One:1? Or can it?
You'll have to watch, of course. The video features British automotive "journalist" and former racer Tiff Needell on camera and at the wheel of the Volvo. He explains the rules of engagement, and the race is on. Well, after four or five minutes of discussing the gearbox technology – which, for HWT readers, should be even more interesting than the contest.
[youtube PlFiKo64kQw nolink]
There's also the usual "behind-the-scenes" footage, and an array of online opportunities for discussion and debate.
[youtube 4Xk7Fbun84I nolink]
Alas, Volvo Trucks' new dual-clutch gearbox was launched in Europe in June this year and is available on all markets selling Volvo FH. No word yet on when the technology is coming to the U.S.
Executive Editor Jack Roberts, however, took a 2016 Volvo VNL for a spin last week to get the feel of the new, fuel-saving Adaptive Gearing system, and you may return to the hard-working real world of trucking with him here.