Cargo vans are seldom known for their off-road capabilities, but that might all be about to change.
Early next year, Mercedes-Benz will introduce the industry's first 4×4 commercial van to the company's wildly popular Sprinter line.
Since the four-wheel drive system isn't active full-time, the company considers the van a 4×2 with 4×4 capabilities when needed. Once the electronic traction system has been push-button activated by the driver, a factory-installed all-wheel drive system spreads a torque ratio of 35:65 between front and rear axles.
The on-demand push-button four-wheel drive Sprinter is only available with Mercedes' 3-liter V6 BlueTEC diesel matched to a five-speed automatic, both of which ably handled everything thrown at it during my recent test drive at the Daimler's Charleston, S.C. Sprinter assembly plant.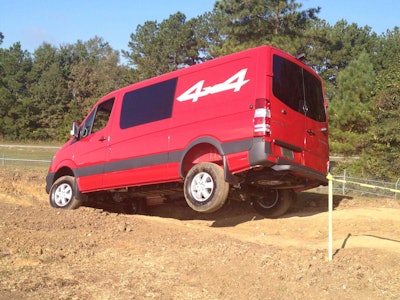 The 188hp and 325 lb.-ft diesel provided more than enough power to push the 144-inch short wheelbase van up a fairly steep grade and over a man-made off-road track seemingly better suited for ATVs.
Many times, over the course of the brief drive, one wheel was lifted from the ground. Sensing the loss of traction, the onboard computer shut the dangling wheel off and diverted torque to the three tires actually touching the ground. Even when all four tires weren't on the ground the van never felt "out of control," and under some very loose traction conditions, there were times I would have expected that.
I can't wax poetically about the interior comfort of the van because we were bouncing all over the cabin in a four-wheel drive torture test, but the interior was what you would expect from a Sprinter; not lacking in its simplistic design, fit and trim.
The Sprinter 4×4 is available in 144-inch and 170-inch wheelbases and low- and high-roof configurations, and can be spec'd as a passenger van or a cargo van (available in 8550 and 11,030 pound GVWRs). A crew van spec, featuring two rows of seats and cargo space, takes direct aim at quad cab pickups by offering more enclosed load-hauling capability.
This is every bit the cargo/passenger van you expect from a Sprinter, but having been lifted 4.3 inches in the front and 3.1 inches at the rear, it's also a serious off-road capable tool. Sprinter's also gone the extra mile for safety while you're navigating treacherous terrain. Mercedes' load-adaptive stability control system is constantly active when four-wheel drive is engaged.
The 4×4 option will add $6,500 to the sticker price for high range, and $6,800 for low and high range (low range offers an additional 42 percent gear reduction). That's not an unreasonable investment for the capabilities offered.
I seriously doubt you'll ever put this van through what it's capable of handling, but if your routes regularly take you across icy or muddy roads, this van will get you there and back home in Mercedes' trademark style and with German-engineered dependability.