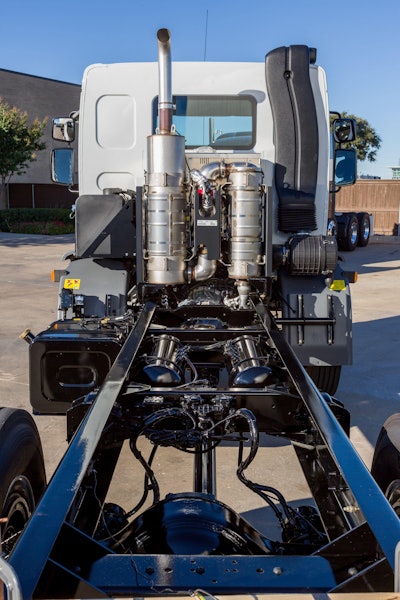 Peterbilt says its new medium-duty Model 220 can now be spec'd with a clear frame rail package that provides up to 10 inches of additional frame rail space over the previous clear frame rail package.
Robert Woodall, Peterbilt Director of Sales and Marketing, says the new option is ideal for customers in applications such as beverage delivery, street sweeping and striping and refuse collection and packing.
"The clear frame rail package optimizes chassis space to help accommodate installation of a wider range of work bodies," he says. "Additionally, this new configuration results in a 40 percent larger capacity DEF [diesel exhaust fluid] tank, improved visibility through the rear window and greater ease of serviceability."
Peterbilt introduced the new Model 220 in March and it went into full production in July. Woodall says the cabover Class 6 and 7 truck features enhanced maneuverability that shortens the curb-to-curb turning radius by 30 percent and improved braking with a standard electronic braking system (EBS).
These characteristics combine with an efficient bumper-to-bumper length for added agility while still delivering an extra 45 inches of payload area and a frame rail system that can be upfitted with bodies ranging from 16 to 28 feet.
The cab features a completely redesigned interior that was engineered to give operators superior levels of safety, productivity and comfort.