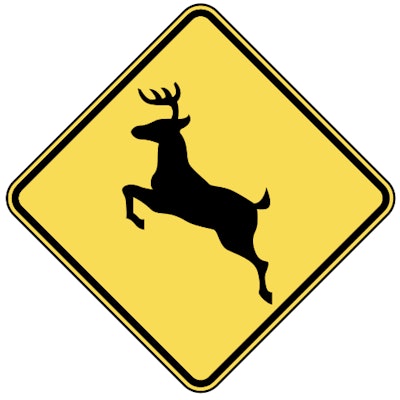 This month's Hard Working Trucks fleet safety tip: Beware of Bambi! If your company's drivers put in any miles at all in rural – or formerly rural – areas, then the fall is the time to be extra cautious about large wildlife on the roads. And the risk is increasing.
Indeed, U.S. drivers are nearly 3 percent more likely to collide with a deer in the next 12 months than they were last year, according to new claims data from State Farm.
The odds drivers will hit a deer in the coming year are 1 out of 169, but that likelihood more than doubles during October, November and December, when deer collisions are most prevalent.
For the eighth year in a row, West Virginia tops the list of states where a collision is most likely. The odds a driver in the Mountain State will collide with a deer are 1 in 39, nearly a 5 percent increase compared to 2013.
Ten percent of the country's deer collisions occur in Pennsylvania (123,941 collisions), though when taking into account the amount of licensed drivers in the state, West Virginia still edges the Keystone State out as number one
Hawaii rounds out the bottom of the list also for the eighth year in a row with odds of 1 in 10,281. Hawaiians are three times more likely to get struck by lightning in their lifetime than they are to hit a deer in the next year.
The national cost per claim average is $3,888, up 13.9 percent from 2013 ($3,414), according to State Farm.
The top five states where a driver is most likely to collide with a deer are:
| | | | |
| --- | --- | --- | --- |
| Rank | State | 2014 Odds | Percent + /- from 2013 |
| 1 | West Virginia | 1 in 39 | + 4.9 |
| 2 | Pennsylvania | 1 in 71 | + 7.8 |
| 3 | Montana | 1 in 75 | – 15.4 |
| 4 | Iowa | 1 in 77 | – 5.5 |
| 5 | South Dakota | 1 in 82 | – 9.3 |
In 2012, 175 deaths were the result of collisions with animals, with deer being the animal most often struck, according to the Insurance Information Institute and the Insurance Institute for Highway Safety.
These tips could help drivers avoid a collision:
Use extra caution in known deer zones
Always wear your seatbelt
At night, when there is no oncoming traffic, use high beams
Avoid swerving when you see a deer
Scan the road for deer and other danger signs
Do not rely on devices such as deer whistles
Deer collisions rose by more than 21 percent in Indiana and more than 8 percent in Virginia this year. This is the first year South Carolina is in the top 10 with a 1 in 93 chance of colliding with a deer.
What causes these significant changes in deer collision rates?
"Periods of daily high-deer movement around dawn and dusk as well as seasonal behavior patterns, such as during the October-December breeding season, increase the risk for auto-deer collisions," says Ron Regan, executive director for the Association of Fish & Wildlife Agencies. "Changes in collision rates from year to year are a reflection of changing deer densities or population levels – more deer in a given area increases the potential for collision. Deer populations are also affected by conditions such as new or improved roads with higher speeds near deer habitat, changes to hunting seasons to manage wildlife, winter conditions, and other related factors."