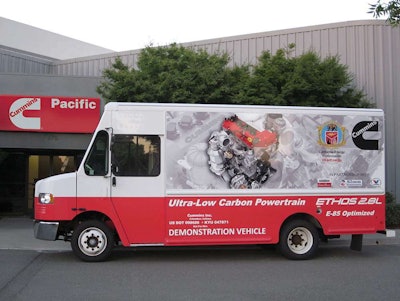 Allison Transmission Holdings Inc. has developed new integrated stop-start technology in conjunction with Project ETHOS, an ultra-low carbon powertrain program created by Cummins Inc. to demonstrate the potential of alternative fuels for carbon dioxide reductions in medium-duty commercial vehicles.
"As a company, we certainly pride ourselves on being a leader for technological innovations within our industry," says Randall R. Kirk, vice president of product engineering for Allison Transmission. "We have utilized stop-start technology in our hybrid systems for many years and have been pleased to work with long-time collaborator Cummins on this new powertrain concept."
In partnership with the California Energy Commission, Cummins developed an engine that uses E85 (a high-octane blend of ethanol and gasoline) as a fuel to reduce greenhouse gas emissions significantly. The Cummins ETHOS 2.8L engine is coupled with an Allison 2000 Series fully automatic transmission which utilizes integrated stop-start for further emissions reduction, as well as increased fuel economy.
Integrated stop-start shuts the engine down when the operator presses the brake pedal and the vehicle comes to a complete stop. The transmission remains in drive during this time and locks the output to help prevent vehicle rollback by using an electric pump. As the driver's foot is lifted from the brake, the system automatically starts the engine to allow acceleration.
"Integrated stop-start is an exciting development that represents the natural evolvement of our product technology," says Kirk. "We are continuously researching solutions to help our end-users reduce their carbon footprint through reduced emissions and fuel consumption."
Allison worked closely with Cummins to integrate the 2550 transmission model for smooth and efficient stop-start operation. The transmission is equipped with specific hydraulic circulation features to ensure smooth operation during stop-start driving. Additionally, all Allison Automatics provide Continuous Power Technology with seamless full-power shifts to put engine power to the drive wheels in the most efficient way. The result is faster acceleration and higher average road speed for quicker route times and greater productivity.
Testing and validation were conducted using test cells and a prototype delivery step van provided by Freightliner Custom Chassis. Valvoline provided NextGen engine oils specifically designed for lower CO2 emissions.
According to Cummins, with more than 1,500 hours accumulated on the ETHOS 2.8L engine over the past 2 1/2 years, the technology has proven capable of far exceeding the 50 percent CO2 emission reductions outlined as the project goals.
To complete on-road validation testing and give visibility to the project, a vehicle driving demonstration took place on public roads in California during June and July. While the powertrain system and vehicle are for testing and demonstration purposes only, market demand and production logistics are currently being explored, Allison says.