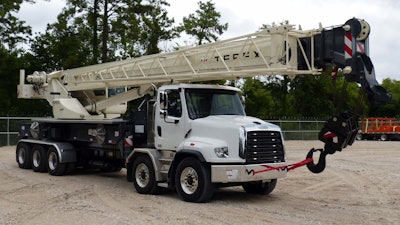 Crane Works Inc. has taken delivery of the first production model Terex Crossover 8000, an 80 ton capacity class boom truck.
The company says the truck's X-pattern outrigger positioning eliminates the need for the front stabilizer jack, typically required for boom cranes to counteract the weight of the engine when lifting. This decreases overall crane length and weight. The crane's three-position outrigger – minimum 6.5-ft (2.0 m), middle 19-ft,9.3 in (5.9m), and maximum 26-ft (7.9m) position span – allows the Crossover 8000 to be used in confined spaces and further enhances crane maneuverability.
The upper lift structure has been approved for the Freightliner chassis. The company says other options are under investigation to offer flexibility in crane configuration. With speeds in excess of 70 mph, the Crossover 8000 quickly moves from job to job at highway speeds.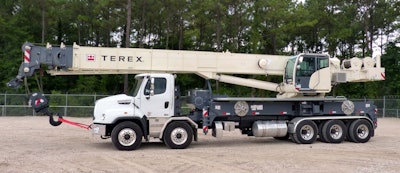 Designed for optimum performance over a broad range of applications, the Crossover 8000's crane's four-section main boom offers a 126 ft length with a 189 ft maximum tip height. Two available jib designs – fixed length 33 ft and extendable to 57 ft – offer 0, 15 and 30 degree offset positions, providing easier reach when lifting over objects. With a rated 80 ton lift capacity at a 10 ft radius, the crane provides the strongest lift capacity of any boom truck available in North America.
The Crossover 8000 crane can be equipped with either one or two winches, giving it the flexibility to handle some complex lifts. The crane's top swivel ball with hook and latch is rated at 7 US t (6.4 t). Alternatively, the available quick-reeving hook block features five sheaves to offer an 80 US t (72.5 t) capacity.
Terex says its Crossover 8000 is the first boom truck to feature the latest Terex Cranes operator's cab, designed to boost productivity and comfort. Built around operator feedback, this functional cab repositions the electronics compartment to offer longer inside dimensions and provide more space for operators. Moreover, an infinitely variable tilt-up operator cab of up to 18 degrees delivers improved vision of the work area. A redesigned air conditioning and heating system with individual air outlets maintain comfortable operating temperatures. An ergonomic, multi-adjustable seat with lumbar support, air-ride suspension, high back and arm rests helps to improve operator comfort and productivity.