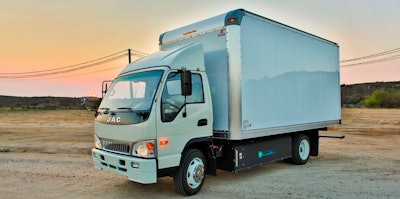 Efficient Drivetrains Inc. has joined with alt-fuel truck builder Greenkraft to develop a first-of-its-kind, Class-4 vehicle that combines the benefits of compressed natural gas and plugin hybrid electric vehicle technology.
The effort combines EDI's intelligent PHEV powertrain with Greenkraft's CNG-powered 14,500-pound, Class-4 medium-duty truck.
EDI's solution can improve the fuel economy of a conventional CNG-powered medium-duty truck by more than 40 percent, according to the company.
"EDI's CNG-PHEV is a first-of-its-kind innovation, and represents an entirely new market application for EDI's proprietary technology," said Joerg Ferchau, co-founder and CEO of EDI. "The CNG-PHEV delivers a market-disruptive vehicle that will help fleets switch from petroleum-based liquid fuels – gasoline and diesel – to domestically available, cleaner-burning natural gas and electricity. Technology possesses tremendous potential for commercial viability and can play an essential role in helping California meet its long-term carbon reduction and short-term zero-emissions goals."
In certain duty cycles with shorter daily mileage requirements or where periodic plug-in recharging is possible throughout the day, it may even be possible to completely eliminate the use of CNG, achieve 100-percent all-electric zero-emissions vehicle operations, and achieve an effective MPGe of 26.9 – an improvement of 300 percent over the baseline CNG truck, the company says.
EDI's announcement came simultaneously with a grant approval for the combined partnership by the California Energy Commission of funding from its Energy Research and Development Division. The unanimously approved $900,000 grant, supports the state directive to accelerate research and development of advanced natural gas engine-hybrid electric vehicles for light- and heavy-duty applications.