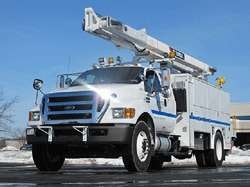 The first of 22 new Terex XT55 bucket trucks that feature Odyne plug-in hybrid systems has been delivered to Philadelphia-based electric and natural gas utility PECO.
These are the first Terex bucket trucks and the first hybrid system trucks for the utility.
"We are proud to be the first utility in the United States to deploy this type of vehicle through the combined Department of Energy and Electric Power Research Institute initiative," said PECO President and CEO Craig Adams. "In addition to our core mission of providing safe and reliable service to our customers, PECO and all of Exelon share a strong commitment to protecting and preserving the environment, and operating a sustainable fleet is a key component of our efforts."
The Odyne hybrid power system features proprietary and patented hybrid technology combining reliable electric power conversion, power control and energy storage technology.
The Odyne plug-in hybrid drive system reduces fleet operating and maintenance costs, and depending on duty cycle, enables large trucks to obtain fuel economy improvements of up to 50 pecent compared to traditional diesel or gasoline engines, according to the system maker. Odyne also says it continues to be the only plug-in hybrid system on a medium- or heavy-duty truck to deliver greater fuel efficiency both while driving and at the work site.
The 22 trucks are part of a 300-vehicle, $45.4 million U.S. Department of Energy, Electric Power Research Institute and South Coast Air Quality Management District of California award.
Odyne is developing and deploying more than 120 plug-in hybrid systems for trucks for companies and governmental entities throughout North America as part of the award.
The trucks delivered with Odyne plug-in hybrid systems will feature advanced grid capabilities to charge the hybrid batteries at the most opportune time, reducing charging costs and excess demand on the utility grid.