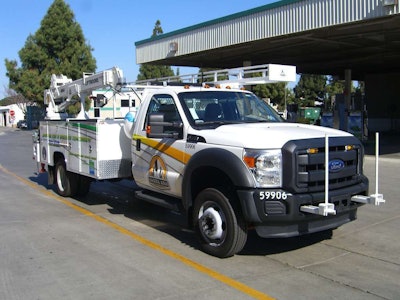 The City of Santa Ana has purchased seven vehicles fueled by propane autogas as part of its ongoing green initiatives effort to enhance its commitment to conservation and the environment.
The new ROUSH CleanTech Ford F-550 trucks will reduce carbon emissions, lower fuel and maintenance costs, and decrease reliance on imported oil.
"The City of Santa Ana is serious about providing its citizens with clean air by embracing alternative energy and conserving natural resources," says Rick D. Longobart, the city's facilities, fleet and central stores manager. "The fact that we anticipate dramatic fuel and maintenance cost savings is a bonus."
TEST DRIVE: Roush CleanTech 2014 Propane F-250
Equipped with 52-usable-gallon propane autogas fuel systems, each Ford F-550 truck will reduce carbon dioxide emissions by about 55,000 pounds over its lifetime, the city claims. Compared to conventional diesel counterparts, these propane autogas vehicles also minimize smog-producing hydrocarbons, virtually eliminate particulate matter, and lessen noise levels by about 50 percent.
Customized for residential maintenance purposes, the trucks will be used in the water and public works sectors. One will be displayed at the Government Fleet Expo in San Diego this week.
In the past five years, the Santa Ana has won more than a dozen fleet awards, including "Top Best Fleet" and "Fifth Greenest Fleet" by Government Fleet magazine and the Green California Leadership Award by Green Technology magazine. Longobart secured the "Fleet Manager of the Year" award from the Rocky Mountain Fleet Manager's Association in 2013.
"The City of Santa Ana was instrumental in providing feedback during the product development of our first Ford F-550 propane autogas fuel systems," says Todd Mouw, vice president of sales and marketing for ROUSH CleanTech. "Proven environmental leaders, the city will virtually eliminate particulate emissions and save tens of thousands of dollars in fuel and maintenance costs by replacing aging diesel trucks with new propane autogas F-550s."
According to Longobart, the current cost of propane autogas in the area is $1.50 per gallon.
The FFCS division's five-year strategic plan calls for at least 75 percent of its fleet to fuel with "renewable and sustainable energy." FFCS has pursued and received various funding, including a grant from the state's Mobile Source Air Pollution Reduction Review Committee, which assists motor vehicle projects that reduce emissions.
The city plans to install a 2,000-gallon publicly accessible propane autogas station in a central location.
"We really believe in this domestic clean fuel and want other organizations and citizens to use it," says Longobart.