Now in the driveway. NOT. Earlier this year, Mercedes-Benz USA let it be known the G63 AMG 6×6 had made it to America, and could be spotted roaming New York and New Jersey on its three portal axles and its six beadlock wheels wearing massive 37-inch tires.
The handcrafted biturbo 5.5 liter V-8 hauls its 9,000 lbs. mass to 60 mph in "the world's most thrilling" 7.8 seconds.
The hard-working Fun Trucks Friday staff has yet to see one cruising around in any of modest suburban neighborhoods, however. And no wonder: the M-B G63 AMG 6×6 is priced at nearly a half-million bucks, and the plan is to make only a couple of dozen vehicles a year. (Photos by Mercedes-Benz USA)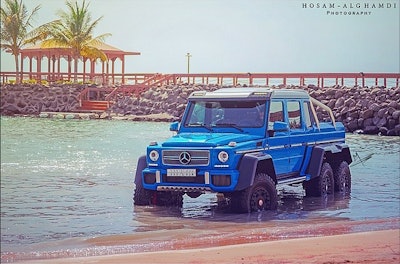 Guess where? The FTF staff, of course, is willing to travel the world, virtually at least, to bring home the latest in hard-working truck news.
And we knew right where to look to find the elusive G63 AMG 6×6: the oil-rich Arabian Gulf.
Photographer Hosam Al-Ghamdi was on hand when hand when this one, named the Sea Monster, came out to play in the surf.
Visit his Instagram page for the video of a quick spin around the lagoon.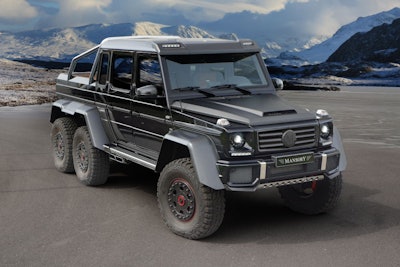 Excess. Of course, you can never get too much of a good thing.
Bavarian auto-upgrader Mansory Design took one look at the G63 AMG 6×6 – and the pocketbooks of likely buyers – and decided they could be of some assistance in making it just right for the "oligarchs, oil sheiks and wealthy Chinese" who needed to add one to their fleet.
In addition to the body parts made of visible carbon and extensive interior modifications, Mansory also offers a generous increase in power output, up to 840 hp.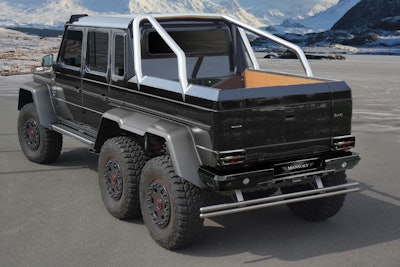 Mansory has completely reworked the AMG 8 cylinder twin turbo and installed genuine racing components along with a newly designed exhaust system, from the manifold to the stainless steel double end pipes.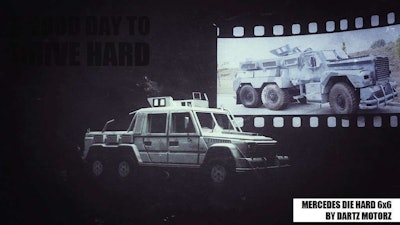 Excessive excess. Of course, too much is never enough for a real oligarch, and nobody does opulence better than the Russians.
Coachbuilder Dartz traces it origins to the first luxury railcar custom built for the family of the Czar and subsequent early automobiles and even aeroplanes.
The Dartz G63 AMG is a takeoff on the MRAP featured in Die Hard 5, this version cleverly called the Drive Hard 6×6 G.
A little body armor pushes the curb weight to 11,000 lbs. or so, but if you convert it to metric, that's only 5,000 kilos. Not to worry, however: Dartz has pumped up that poor little twin-turbo V8 to more than 1,000 hp and 738 lb-ft of torque.
Best of all, it comes at a price that'll have peasants throwing themselves under all six massive wheels: $3.3 million or so. Da!
He can't help it. And finally, a little video.
Top Gear's Richard Hammond attacks the dunes of Abu Dhabi in the G63 6×6.
[youtube QaNk116b2kw nolink]