Paying Tribute: Volvo's New River Valley assembly plant in Dublin, Va., has unveiled its 2014 Ride for Freedom memorial truck, which will travel in a motorcade of about 175 motorcycles from the plant to the U.S. Capitol during Memorial Day weekend.
Each year, NRV employees and the UAW Local 2069 Veteran Committee develop custom graphics for its tribute truck. Volvo employees at the NRV plant have been participating for more than two decades in the Run For The Wall motorcycle rally, which honors those who have been captured or lost their lives while serving in America's armed forces.
This year's memorial truck, a Volvo VNL 670 (Slide 1, above), is adorned with graphics saluting all military service members. As in years past, a significant portion of the design (Slide 2) pays tribute to prisoners of war and those missing in action. In designing the truck, the veteran's committee focused on creating a visual to provoke thought and reflection, educate the public and incorporate a healing aspect.
Lifeguard on duty: Silly semi-tractor driver or clever Ford publicist? You make the call, but the setup is thus: After others had tried and failed to pull this tractor out of the sand, an F-150 saves the day at the beach.
[youtube HeL3A6TYQ94 nolink]
The YouTube description says: "My 2011 Ford F150 5.0 helps this semi stuck in sand. Couple of trucks had tried but couldn't do it. Red Ford up front quickly pops his rope so was of no help. Please excuse the drunken camera girl. :-)"
An FTF staffer adds: "We've been to this beach, and the sand is hard-packed just a little further away from the waterline. Looks like the tractor driver wanted to get a bit too close to the bikinis – but it's not unusual to see a heavy-duty tractor down there. Chicks dig 'em."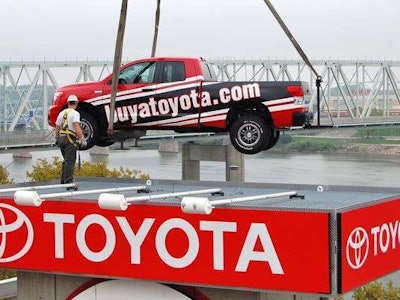 Play ball!: Cincinnati Reds third baseman Todd Frazier not only leads the team in home runs, many of his blasts have been majestic. A recent homer was measured at 481 feet, sixth longest in Great American Ball Park history, according to a Fox News report.
And while Frazier promises to match the record-setting blast of former Reds first baseman Adam Dunn (535 feet), he's got his hitter's eye on another prize at Great American: the Toyota Tundra on a platform in right-center field. It's Frazier's to take home if the aim and distance are good – a mere 520 feet.
"Now that's a poke," he said.
Now the kid wants to mow: What's summer in suburbia without the sound of lawnmowers and the smell of freshly cut grass – and the smug satisfaction of a job well done (or at least done well enough that the property-owners' association will quit sending hate mail)?
Just because they can, the folks at Honda have built Mean Machine: a re-engineered a Honda HF2620 Lawn Tractor. It features an all-new fabricated chassis custom-made from 4130 chromoly (high carbon steel), along with a bespoke suspension and wheels from an ATV and is powered by a 1000cc engine from a Honda VTR Firestorm.
Mean Machine holds the Guinness World's title for the fastest lawnmower, averaging 116.57mph during its most recent certified trial. The unofficial top speed capability, based on gearing, is about 130mph.
Oh, and it does still cut the grass – though at 'only' 15mph.
[youtube u05JI4vQ128 nolink]
In the video above, Castrol Honda Racing driver Tiago Monteiro took on the legendary 'Eau Rouge' corner and hill climb at Spa Francorchamps, swapping his WTCC Honda Civic for the world's fastest lawnmower.
Or peruse the images below for additional stills from the record-setting day in Tarrogona, Spain, earlier this spring.
[imagebrowser ID=196]