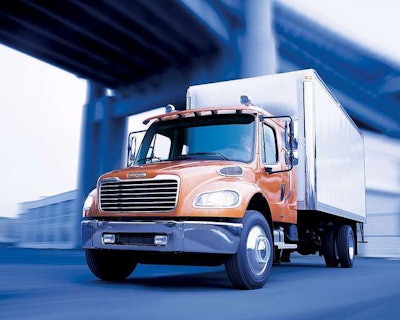 The JOST International JSK36 lightweight fifth wheel is now the standard fifth wheel for all Freightliner truck models, Daimler Trucks North America has announced. The JSK36 is also available as a published option for the Western Star 4700 and 4900 truck models.
The JOST JSK36 fifth wheel features a lightweight design that also offers safety, ease of maintenance and reliability, the company says. The JSK36 features the same simple JOST locking mechanism that customers have become familiar and comfortable with. JOST, one of the world's leading manufacturers of fifth wheels, has partnered with DTNA since 2002.
"JOST International's fifth wheel solutions are an ideal complement to our products. We depend on our partners to provide value-added solutions that contribute to our customers' uptime," says Mary Aufdemberg, director of product marketing for Freightliner Trucks. "The low lifetime cost of ownership of JOST fifth wheels makes JOST a smart choice for our customer's applications."
JOST International has been manufacturing fifth wheel coupling devices globally since 1956 and began manufacturing for the North American market in its Greenville, Tenn., facility in 2000.
"This new agreement with DTNA represents a significant advance in our domestic position," adds Rich Carroll, vice president, sales and marketing for JOST International. "JOST is the leading manufacturer of fifth wheels around the globe and this partnership positions us well in our progress towards market share leadership in North America."
In total JOST supplies roughly a half-million fifth wheels to the global market, with more than 350,000 JOST fifth wheels currently on the road in North America.