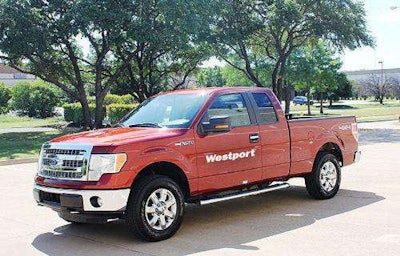 The only California Air Resources Board and EPA-certified Ford F-150, featuring the Westport WiNG Power System, is being debuted during the Alternative Clean Transportation Expo in Long Beach, and will be on display May 6 to 8.
Unveiling the new model at this year's ACT Expo was a natural decision, says Paul Shaffer, Westport Innovations Inc.'s vice president and managing director of North American Ford business.
"California is one of the most promising states for the adoption of natural gas vehicles, thanks to the wide network of natural gas stations and the attractive incentives available to drivers and fleet owners," says Shaffer. "California is arguably one of the most significant natural gas vehicle markets in the U.S. The F-150 is a significant fleet vehicle, as some fleets prefer its smaller size."
While natural gas vehicles have grown in popularity for applications such as shipping and transit – in fact, some of the first Westport technology ever deployed was in California for buses at Berkeley University – few people are aware of their widespread use, economic and environmental benefits, and the growing number of options for passenger vehicles, Westport suggests.
California represents an important market for natural gas vehicles, and according to the California Natural Gas Vehicle Coalition, the state's natural gas fueling infrastructure is the most extensive in the United States with nearly 600 public and private natural gas stations at the beginning of 2012.
With gasoline averaging $3.71 a gallon in the United States and compressed natural gas averaging $2.11 per gasoline gallon equivalent, there's a clear price advantage to operating on natural gas, particularly for high-mileage drivers, Westport says.
And mileage is key with the Westport WiNG powered Ford F-150, offering equivalent fuel economy, fuel capacity and mileage to a traditional gasoline-powered model.
Westport received certification from CARB for its 2014 model year Westport WiNG Ford F-150 3.7 L pickup truck with the dedicated compressed natural gas (CNG) system in April. CARB certified vehicles meet all applicable California emission regulations.
The Ford F-150 pickup truck, which is also certified by the Environmental Protection Agency, runs on CNG and is available with a 17 gasoline gallon equivalent, 23 GGE tank, or an industry leading 27 GGE.
The existing Ford OEM warranty remains intact, and is matched by the Westport warranty for all like components. All Westport operated trucks undergo the same safety testing required for all Ford original equipment manufacturer products, the company says.
Westport has also received certification in April from the EPA for its 2015 model year Ford F-250 and F-350, 6.2 L super duty trucks with the Westport WiNG bi-fuel CNG system.
The Westport WiNG-operated Ford F-250 and F-350 trucks run on both gasoline and CNG and are available with a 17 GGE or 23 GGE tank, or a variety of combinations using underbody tanks.
Visit Westport's website for more information about our bi-fuel and dedicated CNG Ford vehicles.