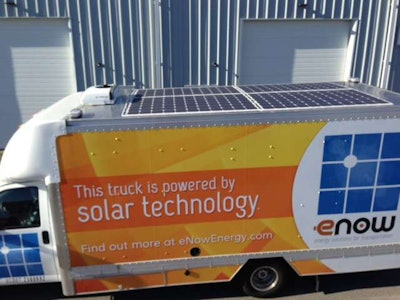 Through a recently announced business alliance with transportation technology deployment specialists Velociti, eNow expects to expand market exposure for its line of solar powered energy systems aimed at transportation applications, the clean-tech company says.
"We're always on the lookout for technologies that our customers can leverage to maximize efficiency and value in their fleets," says Velociti President Derek Powell. "eNow's innovative solar technology is that type of value-added product."
As a result of the alliance, Velociti will be capable of installing any of eNow's solar powered eCharge energy systems either at a customer's facility or at a Velociti facility.
Velociti's transportation customers include fleets of tractor-trailers, construction vehicles, school buses, and public safety vehicles.
In providing solar products for the transport industry, eNow has developed several practical, auxiliary power systems.
The eCharge Solar Battery Charger is designed for vehicles that lose battery charge when powered off for extended periods, and for vehicles with emergency/safety lighting, liftgates, refrigeration or other battery powered auxiliary system. The eCharge No Idle HVAC provides clean, reliable and long-lasting cooling without engine idling.
Both systems have shown paybacks of 1-2 years.
"We look forward to working with Velociti to help fleets improve fuel efficiency and battery life while reduce operating costs," said Jeff Flath, eNow President and CEO.
eNow's growing reach across the industry includes previously announced marketing partnerships with Bergstrom, Mitsubishi Fuso of North America, Hercules Mfg., Anthony Liftgate and Palfinger.