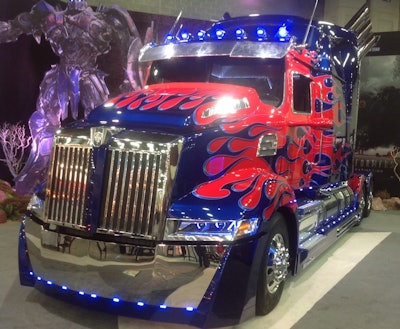 From show-stopping tie-ins to Optimus Prime, NASCAR and tire-smoking tractors, to more mundane matters such as fuel efficiency improvements and automated transmission sales, Daimler Trucks North America used its press preview hour at the Mid-America Trucking Show to highlight a wide range of industry-leading products from the company's various brands – and to hint at more to come.
Among the more interesting items, and a likely crowd favorite when the doors officially open Thursday, Daimler's Western Star booth features a set of very serious trucks with plenty of chrome and color. The standout, based on the number of Kentucky Expo Center staff and other passers-by with exhibit floor access who posed beside it for selfies, the star of the show could well be Optimus Prime, the heroic lead in the upcoming "Transformers: Age of Extinction" movie.
And while the wow factor was high, Western Star officials hinted that if you imagine Optimus Prime without some of the movie makeup, you'll catch a sneak peak at the new, Western Star-badged highway tractor – one meant to carry the marque's cachet and still hold its own against the industry's most fuel efficient tractors.
To be unveiled in the fall, the new aero-styled Western Star will be badged as a 5700.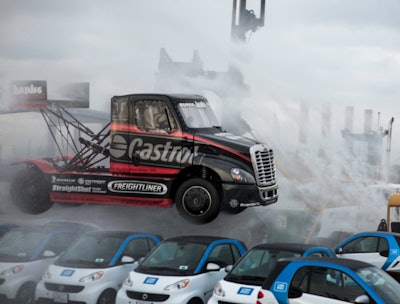 In other announcements that were more about fun than freight, the Freightliner Trucks booth will screen the newest Mike Ryan stunt video, "Size Matters 2," and Ryan will also be on hand to sign autographs during MATS.
Also revealed on Wednesday, Alliance Truck Parts – DTNA's private label, all-makes parts brand – will upgrade it's NASCAR sponsorship from the Nationwide series to a Sunday Sprint Cup car with Team Penske and driver Brad Keselowski.
DTNA also noted that it has become the market share leader in Class 6-8 vocational truck sales and in Class 6-7 medium-duty.