The mailbag is overflowing with Fun Trucks Friday follow-up tips, so this week let's reconsider: A more Raptor Raptor; Luke Skywalker, trucker; baseball players with too much money (but cool trucks); and the U.S military is looking a for a few good medium duty vehicles. Keep those cards and letters and e-equivalents coming.
Raptor rapture: Knowing the aftermarket was loaded with pickup truck enhancements and design modifications, the folks at Ford thought they'd try their hand at upgrading the F-150 themselves. And the Ford Raptor has been the factory performance package of choice for pickup enthusiasts for several years now.
But gearheads can't leave well enough alone: Someone always thinks the dial should go to 11. HWT has covered many of these upgrade upgrades, and adds another to the madness, this one by German tunehaus GeigerCars.
"The Beast" is its appropriately immodest name, based on a luxury-spec'd SVT Raptor SuperCrew Cab. Add 22-inch alloy wheels, 37-inch off-roads tires, a twin-turbo delivering a reported 572 horsepower and sick green paint scheme and you have, well, a beast.
May the force be with you, driver: The Walmart Advanced Vehicle Experience, or WAVE, concept vehicle is the latest hard working truck addition to the retail giant's fleet efficiency program.
The one-of-a-kind prototype offers "a whole package of firsts," the company says: The tractor has very advanced aerodynamics and is powered by a prototype advanced turbine-powered, range-extending series hybrid powertrain. The design includes electric sliding doors and cab that puts the driver front and center, surrounded by a fully-customizable dashboard shown on LCD displays.
The trailer is made almost exclusively with carbon fiber, saving around 4,000 pounds.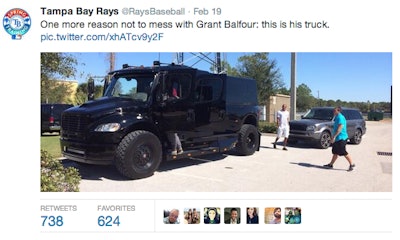 High and wide: Tampa Bay Rays fans should hope that All-Star pitcher Grant Balfour isn't compensating for his lack of good stuff in the coming baseball season. He arrived at training camp with a custom Freightliner P4XL, surely the biggest vehicle on the players' parking lot.
Reports say it includes a big screen television and, no doubt, as pretty fair audio system. There has to space enough for a training room, or at least a hot tub – strictly for baseball related therapy, course. And for tax purposes.
Balfour could likely use some write-offs after signing a two-year, $12 million deal last month.
Army strong: The US Army soon will be in the market for a new medium-duty hard fighting truck, according to a recent report in IHS Jane's Defense Weekly.
The Legacy Family of Medium Tactical Vehicles (FMTV) trucks are still being purchased, but "around 2025" the army hopes to buy a new medium truck, according to Kevin Fahey, Program Executive Officer for Combat Support and Combat Service Support (CS CSS).
Buying a new medium truck is "probably the next priority" for his vehicle fleet, Fahey told reporters during an Association of the United States Army (AUSA) symposium in Huntsville, Ala.
With industry R&D input, the army hopes to know by the mid-2020s what can be done technologically and how much it would cost, at which point the service would build, test, and buy new medium trucks, according to Janes.
Fahey says some of the tactical vehicle roles – the Palletized Load System (PLS), Heavy Expanded Mobility Tactical Truck (HEMTT), and Heavy Equipment Transporter (HET) – could be achieved with a common chassis.