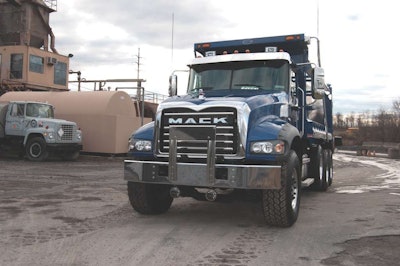 In recognition of the dedication and sacrifice of U.S. military service men and women, Mack Financial Services says it is offering returning veterans special financing terms for new Mack commercial vehicles.
Recent veterans who have received an honorable discharge can receive a .50 percent (50 basis points) discount off the approved finance rates from Mack Financial Services and obtained through a Mack dealer.
Veterans must possess a valid and current CDL and must have been honorably discharged of active duty within the past 24 months to qualify. This offer is open to recently discharged members of the U.S. Army, Navy, Air Force, Marines and Coast Guard.
"Mack Financial Services wants to show our appreciation of the service of returning vets with this unique financing offer," said Tom Guse, president of the U.S. division of Mack Financial Services. "Mack Financial Services and Mack are pleased to offer a program such as this to alleviate some of the pressures experienced by returning military personnel following their service."
Units must be delivered and funded by Dec. 31. All credit tier customers are eligible and the rate discount is limited to a maximum of three units per qualifying veteran, MFS says.