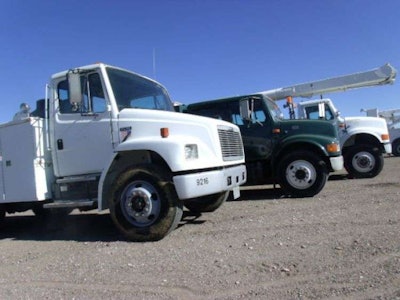 After six days in the national spotlight selling more than$113 million worth of classic cars for Barrett-Jackson, auctioneer Spanky Assiter immediately turned his sights homeward to his next challenge: Lining up consignments and preparing for Assiter Auctioneers' huge Canyon Heavy Equipment and Vehicles Auction, set for March 6 at his Canyon, Texas, headquarters.
"We had an incredible experience with the biggest Barrett-Jackson sale ever, but it's good to refocus on the upcoming equipment sale, which already looks like it's going to be our best ever, with equipment from the City of Amarillo and many others," says Assiter. "We probably won't have much in the way of classic Dusenbergs and Alfa Romeos, but back here in Texas, folks will be focused more on graders, bucket trucks, excavators, trucks, pickups and other vehicles that form so much of the core of the economic engine of Texas."
The Barrett-Jackson event in Scottsdale, Ariz., broke numerous records and attracted major celebrities and collectors.
"We had a Dusenberg sell for $1.43 million, a 1954 Plymouth Belmont Concept car for$1.32 million, and an Alfa Romeo that sold for $997,500. And those were just a few of the memorable moments for Amy and me and others on our team. But it's important to remember that fundamentally, every auction comes down to the challenge of getting the right bidders in the room and getting the best possible price on every asset. Our team puts the same organizational and marketing skills to work in every Assiter Auctioneers sale," says Assiter.
The March 6 heavy equipment auction will be held at the auction company's facility at 16650 Interstate 27, Canyon. The entire inventory will be posted at assiter.com and will be available for inspection. Individuals seeking to consign equipment or bid on assets may call 800-283-8005.