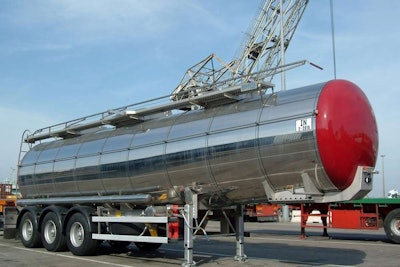 Joining propane haulers in the Midwest and Eastern regions, propane haulers in the South are temporarily exempt from federal hours-of-service regulations in light of cold temperatures and propane shortages around the country.
The latest Federal Motor Carrier Safety Administration covers propane haulers in Kentucky, North Carolina, South Carolina, Georgia, Tennessee, Arkansas, Alabama, Mississippi, Louisiana and Oklahoma.
It lasts until 11:59 on Feb. 11, and those operating under the exemption must have a copy of the FMCSA's declaration with them. Click here to download it.
The exemption "provides for the regulatory relief for commercial motor vehicle operations while providing direct assistance supporting the delivery of propane and home heating fuels into the affected areas and consumers" in the region, the declaration reads. The exemption expires immediately when the truck is used to transport something other than propane loads "not directly supporting the emergency relief effort," according to the declaration.
FMCSA issued the previous exemptions Jan. 19 in response to a letter from the National Propane Gas Association, saying propane shortages in the U.S. weren't being caused by a propane supply problem but a problem in transportation and distribution.
The Midwest and Eastern region exemptions include Connecticut, D.C., Delaware, Massachusetts, Maryland, Maine, New Jersey, New Hampshire, New York, Pennsylvania, Rhode Island, Virginia, Vermont, West Virginia, Illinois, Indiana, Iowa, Kansas, Michigan, Minnesota, Missouri, Nebraska, Ohio and Wisconsin.
Exemptions in those states also expire Feb. 11.
Prior to the FMCSA-issued exemptions, states had been issuing their own waivers — another problem cited by the NPGA, who said the "patchwork" of waivers wasn't doing enough to address the regional propane distribution problems.
NPGA cited, along with the "polar vortex"-caused extreme temperatures, several reasons for the propane shortage, including a spike in demand for fuel for grain dryers due to a late and wet grain and corn harvest; a lack of storage in the Northeast; downtime for the Cochin Pipeline, which carries propane from Canada to the U.S.; and general change in energy flows in the U.S. and North America that have caused pipelines to be in a "state of transition," NPGA says.
As with the other waivers, FMCSA's declaration overrides any state exemptions previously issued.