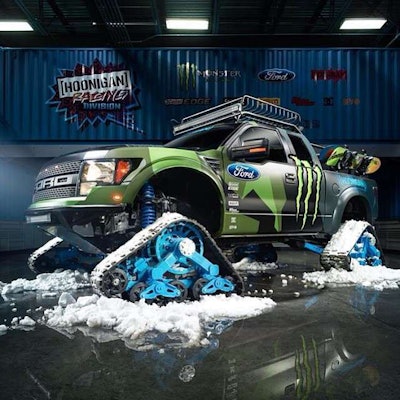 Trucks don't get any more fun in the winter than these. At least until next Friday's edition.
Dude! Gymkhana rally guy Ken Block took to Instagram this week to reveal his Ford F-150 RaptorTRAX.
"This is a fun project, built to be the ultimate backcountry snowboard expedition vehicle," Block says, "perfect for slaying powder with some friends in the backcountry."
A few of his fave features include: snowboard racks and storage for all of his backcountry snowboarding needs, full off-road suspension, and, the difference maker: Mattracks at all four corners, along with a Whipple supercharged 6.2 liter V8 to keep the tracks churning.
Block bills the truck as "the world's fastest snowcat."
"I'm stoked to take this beast to the mountains!" he says.
No doubt.
He offers a brief video here, or check out the video of a previous project, the TRAX STI.
Detroit Rock City: For those of you who scoffed at the Fun Trucks Friday ICON Thriftmaster, a slightly modified Chevy 3100 priced right for Silicon Valley kid billionaires at about a quarter-million bucks, the recent auction of a Ford F100 of a similar vintage brought in $450,000. Coulda had two ICONs for that, bro.
But, the spending spree was for a good cause.
The truck was "Snakebit," the custom project that KISS frontman Gene Simmons showed off at the 2013 SEMA show. (Our Bruce Smith posts photos of other, more hard-working trucks from the show here.)
Snakebit was sold at last weekend's Barrett-Jackson charity auction in Scottsdale.
The Children's Hospital of Saskatchewan took home the proceeds, and the winning bidder took home the old farm truck, suitably upgraded to handle the 550-horsepower 5.4-liter Shelby V-8.
For the musically illiterate, "Detroit Rock City" was a mellow little '70s ditty popularized by the unassuming Simmons quartet.
Honored: Also featured at the Scottsdale auction was this 2010 Freightliner Cascadia.
The tractor was custom painted to illustrate the support of Freightliner and the Paralyzed Veterans of America's dedication to the military and the nation's veterans. The special Edition, one-of-a-kind Cascadia was a way to pay tribute to all the men and women who have sacrificed for our country. The truck has a 226″ wheelbase, 12,000lb front axle rating, 38,000lb drive axle rating, 3.42 axle ratio, dual 120 gallon fuel tanks, partial chassis side fairings and 12″ side extenders, along with the custom patriotic paint job and custom wheels.
The winning bid was $77,000.
Paralyzed Veterans of America was founded by a group of seriously injured American heroes from the "Greatest Generation" of World War II. They created a nonprofit organization to meet the challenges that they faced back in the 1940s—from a medical community not ready to treat them to an inaccessible world.