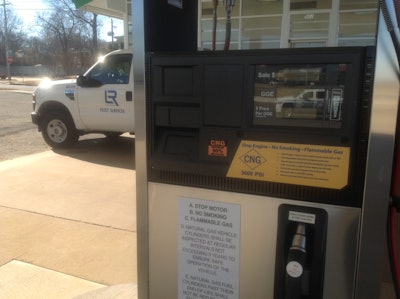 Looking to take a community leadership role in developing alternative fuels for transportation, the City of Little Rock will soon open its new compressed natural gas fast-fill pumps to the public.
The move is just the latest step in expanding the responsibilities and services offered by the city's Fleet Services department, explains Director Wendell Jones.
"It's the future for city fleets around the country. When you can purchase CNG for so much less than diesel or unleaded, then factor in a cleaner burning vehicle, that's just the way it's headed," Jones says. "And I've always had an interest in an environment the kids and grandkids can be proud of."
The city currently has only seven CNG vehicles, so the department had been making do with a slow-fill station at the city compound and had used the municipal station in neighboring North Little Rock. Jones recognized that to grow the CNG fleet he'd need another facility.
The state currently has only seven such stations, although – with the development of the Fayetteville Shale natural gas play to the north of Little Rock – the number is on the rise.
"Certainly we couldn't go buy 15 or 20 vehicles and then have no place to fill them up," Jones adds.
A veteran Little Rock department head, Jones has led Fleet Services for about 10 years. The department has 75 employees and is responsible for maintaining 1,300 vehicles for the police, fire, public works and parks departments.
Among the changes during his tenure, Jones has resisted the government trend to privatize and outsource: He's brought tire work back in-house, opened the department's own paint and body shop and developed a professional staff of technicians.
"We thought we could do it cheaper and be more accountable – meeting deadlines and time frames that might not have been a priority for the private sector," he says. "As long as we can provide a service to our customers at a rate that's reasonable and break even, that's our function."
With that eye to stretching taxpayer dollars, the move to CNG is the next step in the department's evolution.
"After visiting other cities, we felt that natural gas is the direction the nation is headed and that's where the City of Little Rock should be headed," Jones says.
So Jones made the case to City Hall.
"Several things can happen: We can have a cleaner environment; we can reduce our fuel bill; and we can reduce our dependence on foreign fuel," he says. "The city manager agreed."
Key to moving forward, the city was able to get several substantial state and industry grants to offset much of the cost for the CNG station.
The $1.3 million facility, centrally located in downtown Little Rock on Interstate 30, is a redesign of a previously existing conventional gasoline station. It's fed by a 4-inch natural gas pipeline and features a 200 horsepower compressor to expedite fill-ups.
The station will also provide unleaded and diesel fuel to city vehicles, while the CNG pump will be open to the public. The city plans to add an electric charging station in the future.
With a facility in place, the city government hopes to increase the number of natural gas-powered vehicles to 20 percent of its fleet. As an initial step, Fleet Services will soon convert a number for Ford F-150s to CNG power, Jones says.
The area transit system, whose main terminal is nearby, is also expected to begin converting buses to natural gas. In the meantime, the city anticipates private use of CNG vehicles to grow even faster and to support the station.
"We anticipate that the industry will begin to pick up," Jones says. "Not just because we now have a station, but because natural gas is such a cost saver for any fleet."
Indeed, having the municipal fleet as an "anchor tenant" is important in overcoming the "chicken-and-egg" problem of natural gas infrastructure development, explains Dan Blair, president and owner of Daniel Utility, which won the contract to build the new facility.
He notes that in Jonesboro, in northeast Arkansas, a retail CNG station was built primarily to support a private delivery fleet.
"They've got a guaranteed amount of CNG usage, and the public can come in and fill up as well – but they're not relying on the few natural gas vehicles that people own in that area," Blair says.
The construction firm has built natural gas fueling stations in Texas, Louisiana and New Mexico.
"There are going to be thousands of CNG stations around the country," he says, noting the growing conversion rate of both local commercial and municipal fleets. "But even here in the Natural State (Arkansas), it would be hard to go across the state and back and do it on natural gas. While there seems to be a lot of promise, we're still not quite there yet."
[youtube MiqgMaVzLLY nolink]
For any municipal fleet looking to develop a natural gas program, Jones emphasizes the importance of gaining the support of local government leaders.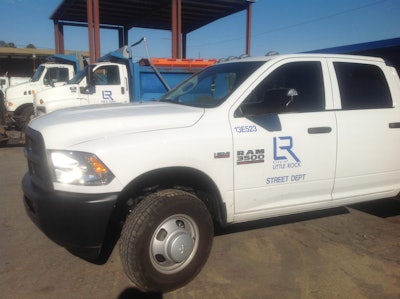 "And make sure that you have all of your financing," he says. "You really want your estimations for the project to be as close as you can get them. And get an engineer or architect who's familiar with natural gas facilities."
He also anticipates that natural gas vehicles and facilities will become less expensive as the market grows.