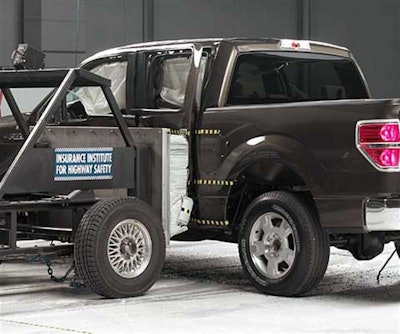 No pickup trucks earned the Insurance Institute for Highway Safety's safety awards for 2014, dinged by stricter standards included in the scoring this year.
A Top Safety Pick+ award required a high level of protection in crashes and, for the first time, the availability of front crash prevention technology to avoid many collisions in the first place, while the Top Safety Pick designation was awarded to vehicles meeting the crashworthiness criteria alone.
The Ford F-150 crew cab models, the Honda Ridgeline and the Toyota Tundra crew cab models all earned TSP ratings last year, which required good performance in the Institute's moderate overlap front, side, roof strength and head restraint tests. But this year good or acceptable performance in the small overlap front test was required and no pickups have met the standard. The same level of performance in those tests, along with at least a basic rating for front crash prevention, is required for the higher accolade, TSP+.
The IIHS ratings for large pickups can be reviewed here. (For details on a particular model, click the model name on the left side of the page. The Ford F-150 evaluation is here.)
"We've made it more difficult for manufacturers this year," says IIHS President Adrian Lund. "Following a gradual phase-in, the small overlap crash is now part of our basic battery of tests, and good or acceptable performance should be part of every vehicle's safety credentials. We also felt it was time to offer extra recognition to manufacturers that are offering a proven crash avoidance technology."
[youtube n3COrEvb3rU nolink]
IIHS has been awarding Top Safety Pick since the 2006 model year and has tightened criteria twice before this year. TSP+ was introduced last year to reward automakers that achieved good or acceptable performance in the small overlap test, in which 25 percent of a vehicle's front end on the driver's side strikes a rigid barrier at 40 mph. The test replicates what happens when the front corner of a vehicle collides with another vehicle or an object like a tree or utility pole.
With the small overlap test now incorporated into the basic TSP criteria, IIHS is using the TSP+ designation to reward manufacturers that provide the next level of safety. This year, that means vehicles that not only protect their occupants in a crash but also have systems that can prevent or mitigate front-to-rear crashes, according to IIHS. Front crash prevention, which includes both warning systems and automatic braking, is intended to help inattentive drivers avoid rear-ending a stopped or slower-moving vehicle in front of them.
IIHS began rating front crash prevention systems earlier this year after research by its affiliate, the Highway Loss Data Institute, showed that forward collision warning and automatic braking systems are reducing crashes. A vehicle with a forward collision warning system that meets performance criteria set by the National Highway Traffic Safety Administration automatically qualifies for a basic rating. Additional points are awarded for autobrake, based on performance in IIHS track tests at 12 mph and 25 mph.
Front crash prevention systems have been spreading quickly through the vehicle fleet. As a result, there are more 2014 TOP SAFETY PICK+ winners than regular TOP SAFETY PICK winners.
"Consumers who want both crash prevention technology and the latest in occupant protection have a fair number of vehicles to choose from," Lund says. "We hope manufacturers will continue to incorporate front crash prevention, developing more robust systems and adding them to more trim levels or, better yet, making them standard equipment."
With the changes to the criteria, the number of winners fell from a combined 130 last year to 39 for 2014. Complete results are available here.