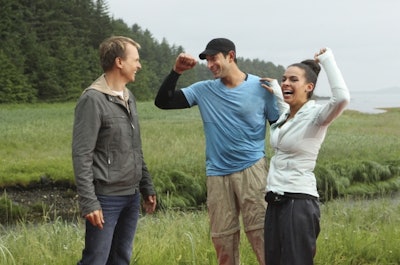 Sometimes, nice guys do finish first. Jason Case, president of Boston-based Case Snow Management and his girlfriend-teammate Amy Diaz were crowned the million-dollar winners of "The Amazing Race" on CBS Dec. 8.
In a follow-up interview with HWT, Case talks about the experience – and how running a small business and a hard working truck fleet helped prepare him for the range of challenges faced by contestants on the popular globetrotting reality television series.
Of course, the snow removal business didn't prepare Case to groom camels or apply Indonesian bridal makeup, but managing a fleet did teach him to persevere, an important trait in a contest that eliminates the poorest performing team each week.
Having known each other for less than two years, Case and Diaz also had to work at building the level of communication they needed to be successful in the race.
"Strong personalities really tend to clash in relationships, and we had to get over that," he says.
As in business, patience and respect were the keys.
"We sat down after the second or third leg and had a conversation. We knew that for us to really go far in the race we had to be a great team, but we had to be even better teammates," Case says. "That meant we had to communicate effectively and work together. That's the way I grew up in a family business. When you have four brothers all competing to be number one, the communication gets really tough. I had a lot of experience there."
Case and Diaz became early favorites on fan discussion boards, noted for being the "nice" team: Diaz, a beauty pageant winner with two Master's degrees, often cooperated with competitors in an otherwise cutthroat contest, assisting them through some of the tougher challenges – even as the couple wound up a close second in an unprecedented six legs of the race.
But they won the segment that counted.
"From a business perspective, what separated me from the other teams was the balance of blue-collar and white-collar ethic. I learned the hard knocks in the field, being in the trenches, roughing it," he says.
His parents also pushed him to get a good education and be a well rounded individual, able to think strategically and make decisions.
"The first time I really appreciated it was when one of my clients said something to me. I'd walked into his office with a nice, white shirt with my name on it – and I had work boots on," he recalls. "The guy was super-impressed that I could come in, make a PowerPoint presentation, and I did it in boots. That let him know I wasn't just a salesman, I was in the field and I knew what I was talking about."
After building the snow removal business as a division of the family's J.E. Case Companies, which provides various construction services, Case spun off CSM as its own company in 2007. The fleet features 23 trucks and a range of plows and loaders. CSM was rated No. 15 among the top 100 snow contractors in North America by a trade association publication.
[youtube vIEBMmWYxN0 nolink]
So how does the company president take off and go around the world? Timing, essentially, Case explains. The show was filmed in June, CSM's least active month, although the absence was complicated by a confidentiality agreement with CBS. Case left behind some special projects to keep the staff engaged: extra customer visits and service provider reviews, along with an investment in new equipment that kept field managers and mechanics busy.
In discussing his business, Case notes that the company prides itself on the quality of its equipment. He also cites the addition of fleet telematics as a key contributor to CSM's success.
"The decision to invest in Fleetmatics was really based around cost savings and understanding the unknown. We have fleet equipment and guys driving around, taking vehicles home, and you really want to keep your finger on the pulse of what's going on," he says. "We saw instantaneous results when we instituted fleet tracking software."
On the driver management side, CSM realized immediate fuel savings by monitoring idling and implementing a notification system to transmit alerts to the field, he explains. The system also delivered safety improvements.
"We knew what guys were speeding and on what roads. We also knew when they would brake too hard or turn too fast," Case says. A driver report card makes it clear who needs to get better.
Operationally, fleet tracking software is crucial in an industry like snow removal, where risk management is so important because of fraudulent slip-and-fall claims, he explains.
"We need to protect ourselves from those claims and also protect our customers," he says. "Having the GPS information at our fingertips – knowing where our trucks are and what they're doing, at what specific time – is a critical element to help us defend ourselves in a lawsuit."
His crews understand the benefits of the system, he adds. And incorporating the data into the billing and payroll systems will eventually eliminate much of the detailed, time-consuming paperwork, "and the guys are very, very excited about that."
Indeed, "an objective source for what's happening, real-time visibility" is the purpose of any good fleet tracking solution, explains Todd Ewing, director of product marketing for Fleetmatics.
As with Case Snow Management, most customers see an immediate fuel savings through a reduction in engine idling, he notes.
"There's a lot more idling that goes on than anyone wants to believe, even in a small fleet," Ewing says. "To build an idle-limit policy, you have to have the data to enforce it."
A GPS system system can also save time and fuel costs through improved dispatch and routing. Fleetmatics customers can also integrate the vehicle data with fuel card usage, providing additional insight into the fuel spend.
And, as Case mentioned, the other important benefit to a fleet tracking system is improved productivity, specifically its precise recording of the hours that drivers and crews are in the field every day.
Some fleet management systems also come with in-cab mapping and message displays or, as in the case with Fleetmatics, the system can be integrated with an existing device, such as a Garmin unit, Ewing adds.
Those looking into a fleet telematics solution should also make sure reports can be customized to meet their needs: Some fleet managers may want comprehensive, detailed reports daily, others may simply need a weekly email summary.
While the savings can vary by fleet size and application, Fleetmatics customers report fuel savings of 10 to 20 percent. Productivity savings, in terms of hours and overtime pay reductions, come in at 2 to 5 percent, Ewing says.
Payback on a fleet tracking system also will vary by provider, equipment and services. Fleetmatics charges a flat monthly fee, which includes the lease of the unit and monitoring costs. Without any upfront charges, customers can see a return on investment immediately, Ewing notes.
While customers may see impressive benefits to start, most will stay will stay with a fleet tracking system even after the "low hanging fruit" savings have been realized. Fleetmatics reports a renewal rate in the "high 90 percent" range.
"I can look at data and tell you what customers have stopped coaching," Ewing says. "Coaching needs to be consistent and you need to have the tool to be consistent. They need to keep comparing themselves to what they did last year, and to what others do in the industry."
With more than 19,000 customers in a variety of industries, Fleetmatics gathers a large amount of data and offers a "unique" benchmarking feature to help with that comparison, Ewing adds.
And Fleetmatics was rooting for Case and Diaz. "The company motto, in a sense, is 'we're in a hurry,'" Ewing says. "So one of our customer's winning the race lines up well with how we think."
And what did Case take back to the business world from his adventure?
The race – which often required that one team member step aside while the other tackled a challenge – helped him learn to "tone down" his "aggressive nature" and develop trust, he explains. He also suggests that his competitive focus didn't allow him to enjoy the experience as much as he might have, and that he'll try to be more appreciative.
"We become too focused, we become machines instead of enjoying ourselves and the people that we're with," he says. "We take way more for granted than we should, especially in this country. That hit home for me in the race. It was a very humbling experience."