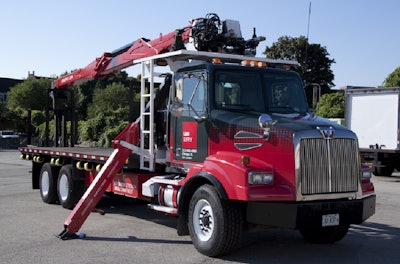 To "wrap" up the Hard Working Trucks discussion of fleet graphics, we spoke with the folks at Modagrafics, a Chicago-area design firm who does work for a number of national companies, to get a few pointers that even a small, local fleet can use to help turn company trucks into successful marketing vehicles.
And advertising is what a graphics makeover is all about, explains Howard Petersen, who handles national account sales at Modagrafics.
"The first premise is the value of the exposure. The service vehicle is out where the consumers are – it's where the action is," he says. "It's even greater than over-the-road vehicles."
Indeed, any company can and should take advantage of sending vehicles where the customers are: Whether it's a garage door company, plumbing, HVAC, or whatever, just getting to and from jobs offers plenty of exposure to potential new customers. A fleet vehicle acts as a billboard even when it's parked outside the company office or it's taken home at night by employees.
"If you look at just the dollars, most service vehicles are in metropolitan areas. In a city like Chicago, those vehicles – a pickup or a straight truck – can deliver as many as 16,000 visual impressions per hour," Petersen says, citing recent outdoor advertising industry figures. "In a metropolitan area this is phenomenal. When you compare it to other types of advertising, this is a fraction of the cost."
In this year's Five Flashiest Fleets contest, work by Modagrafics is represented by entries for S. Rosen Baking, L&W Supply and Safelite. Petersen notes the work for L&W, a nationwide distributor of gypsum wallboard and building materials, calling it one of Modagrafics' most extensive programs for "just a cab identification."
Specifically, the fleet branding effort used a vinyl wrap to change the color of the cab, with the combination of gray and red, along with a distinctive pattern. While the effort is more complex than what many customers are looking for, Petersen explains that the execution, for L&W, has been "worth it."
"It's got all kinds of things that are way beyond painting or taping," he says. "What do you do with a crane? There's hardly any area to put something on. But all of the sudden it becomes a very colorful where it was just drab and bland."
He cautions, however, that as the graphic becomes more extensive, such as a wrap, it becomes more and more important to have a professional apply it. Modagrafics contracts with installers around the country, for instance.
While Modagrafics works more with larger fleets, Petersen suggests that many local signage shops will gladly work with a company on a single truck or two.
Along with paying attention to truck designs around the community, anyone shopping for a graphics service can do a Web search, as most providers will have an online presence, Petersen suggests.
In addition to design and installation expertise, a graphics company should make sure a theme doesn't infringe on an existing trademark. And if a customer brings in an idea by an employee or even the owner's child, a good design company will make sure it gets redrawn "in a professional form," Petersen adds.
He notes that many projects are very personal – he cites the common Chicago example of a plumber who's proud of his Irish heritage and wants a shamrock or a leprechaun on his truck – but which can become very successful if executed properly.
As for other tips, Petersen cautions against including too much "copy" – too many words – in the design.
"It's important that you get everything you want to say on there, but don't make it difficult to read," he says. "Remember, this is a moving vehicle."
On the other hand, the back of straight trucks or even vans and pickup tailgates do get longer exposure in traffic.
Also, "you can't do too much with color," he says. "Over the years we've seen graphics grow from the smallest bumper sticker that dealers put on their cars to these full wraps."