Wouldn't business be much easier if commercial fleets got the same right-of-way that emergency vehicles do? In some enlightened parts of the world, they do.
As illustrated, the marking "Emergency Export Duty" gives these trucks in Bangladesh the same rights as ambulances, according to NPR's Planet Money team. "They don't have to follow any traffic laws and they can use alternate routes when roads are closed."
This effort is in service of getting t-shirts to the port on time for export. Special exemptions for local P&D this North American holiday season might make sense, too.
Most drivers still have to deal with traffic laws and law enforcement. But truck lovers might not mind getting pulled over by a vehicle with a style they could respect. Chevy announced this week its police patrol vehicle, or PPV, version of the all-new 2015 Tahoe, including a new 4WD pursuit vehicle.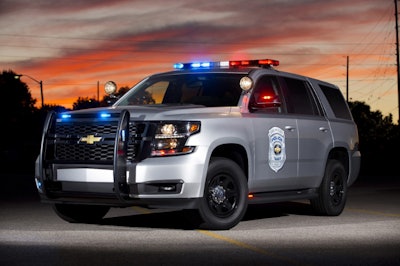 With the EcoTec3 powertrain, the 2015 Tahoe PPV offers 355 horsepower and 383 lb-ft of torque and improved acceleration. The engine is mated to a Hydra-Matic 6L80 six-speed automatic transmission with a police-service calibration that supports pursuit performance. More truck news from the SEMA show in Las Vegas can be found at HWT's sister-site, ProPickup Magazine.
There's more than one way to get around traffic, or impassable terrain, of course. Billed as a recreational sports vehicle, the SkyRunner is a "reflex paraglide wing" enabled ATV that'll do 115 mph on the ground and can cruise at the double-nickel in the air. So, naturally, the flying buggy made its public debut at the Fort Lauderdale International Boat Show last weekend.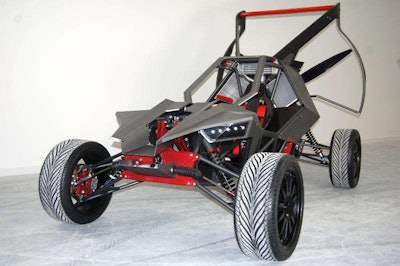 Commercial possibilities? "The business and governmental applications for a low-cost, low-maintenance aviation asset could include large landowners, ranchers, farmers, pipeline companies, emergency medical teams, film, media, aerial survey companies, bush pilots, border security, police, military and search and rescue," the company says.
Finally, a deceptive headline alert.
There will not be a new El Camino, at least not one based on the venerable Holden Commodore utility vehicle.
Holden is the Australian arm of GM, and the Commodore 'ute,' as they say Down Under, has long been rumored to be the model for the reintroduction of the Chevy El Camino in North America. Except Holden is discontinuing it, at least in any form with commercial potential, according to the report from carsguide.com. Imported pick-ups from Thailand, with a boost from a recent free trade agreement, have proved less expensive and more popular, apparently.