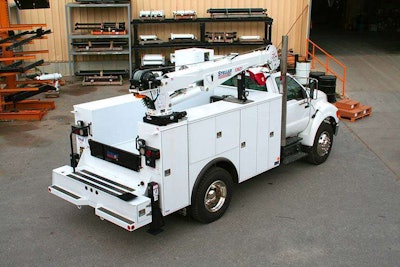 Denver truck customizer O.J. Watson recently teamed with Iowa-based component manufacturer SwapLoader U.S.A. to convert medium- to heavy-duty truck bodies into a true multi-purpose vehicle.
A single vehicle with a single operator can be a dump truck in the morning, an aerial lift in the afternoon, and a container hauler in the evening with simple one-man conversions that take less than 10 minutes on average.
SwapLoader has 14 hoist models with capacities from 10,500 to 65,000 pounds that can be mated with truck body lengths from 10 to 24 feet and can be mixed and matched. Loads engage safely and effortlessly with a single operator who performs most actions from the vehicle's cab.
SwapLoader's sliding jib design moves loads smoothly across the working platform and rear body locks keep load transfers steady, even in the case of an emergency overload.
The technology, originally developed by SwapLoader's parent company EFCO Corp. in Europe nearly 30 years ago, has since been refined and reengineered with American parts and standards at SwapLoader's Des Moines, Iowa headquarters. Today, O.J. Watson's team designs the Swaploader platform to the vehicle and installs the controls necessary to operate it.
The SwapLoader hook lifts allow businesses and agencies versatility by installing a hook lift. The company says it is possible to carry everything from stake and dump bodies to aerial lifts and even emergency command centers on a single truck body.
"Hook lifts give small and medium organizations the ability to perform multiple functions with a single truck, a single operator, and a single license," says O.J. Watson's Senior Vice President Mark Eckrich. "SwapLoader hook lifts are adaptable to a wide range of activities from landscaping and general contracting to lumber yards, roofers, and even fire departments."
Eckrich says his company creates business solutions by matching the customer with the size and style of truck best suited to their needs.