Working with increasingly tight budgets, limited resources and added pressures to drive safely and efficiently, fleets large and small are turning to video technology and analytics to gain better insights and performance measurements on how to improve fleet operations.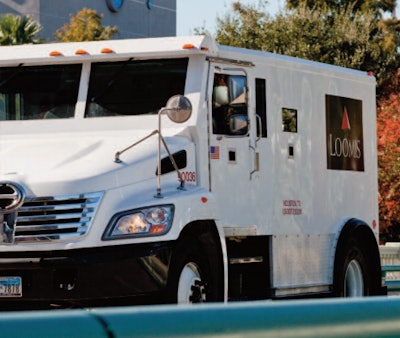 As a high-profile cash handler, Houston-based Loomis draws more than the usual scrutiny on roads across the country, both for its distinctive U.S. fleet of nearly 3,000 armored vehicles and the public notion that those trucks could be filled with cash.
With a safety philosophy that embraces the idea of a "perfect day" – one in which drivers avoid personal injury, keep assets secure and go home safely – Loomis was seeking to reduce accident frequency and severity, as well as the associated cost to people, equipment, liability, and reputation.
Specifically, the company wanted to enhance its rigorous hiring process, known as "Hire the Best," not only to select the best qualified drivers, but to make sure those drivers were as safe as could be.
Loomis decided to try a video-based driver performance improvement program, and turned to San Diego-based SmartDrive. SmartDrive's in-cab "game film" is the centerpiece of a system that reviews and scores operational and safety performance, and provides actionable management reports and simple driver coaching tools.
"SmartDrive gives us the opportunity to correct unsafe behaviors, because we see incidents occur that we normally wouldn't see," says Randy Sheltra, vice president of safety for Loomis. "When we started using SmartDrive, what we immediately saw was significant seatbelt non-usage. After six months, we'd reduced that behavior by 68 percent. If we could change that behavior, which is a challenging one, we believed we could change any behavior."
The subsequent results spoke for themselves: a 53 percent reduction in collision frequency.
Indeed, gathering driving performance information and using it proactively can be a great benefit to drivers and driver managers alike.
"Video and vehicle data provides actionable information that fleets and drivers can use to have a positive impact on performance and lower costs," says Jason Palmer, president of SmartDrive Systems. "The key is to identify and focus on risky driving skills based on real data and accurate information. Without video and data from vehicle systems, it's a guessing game on how drivers are actually performing and whether their driving created a risky situation or helped to avoid one."
SmartDrive is more than the event recording system that captures video and audio from the road and the cab. Driving and vehicle data come from a J1939 bus connection to the engine's electronic control unit and from a 96 G-force crash sensor, an industry standard three-axis accelerometer and third-party telematics sensors in ATC, lane departure and other solutions, the company says.
Loomis begins each weekday by reviewing the SmartDrive reports and zeroing in on coaching opportunities.
"When I log onto the system, it tells me right then and there at the dashboard who my risky drivers are and what the risky behaviors are," he adds.
Those reports are available because the system goes well beyond basic, event-triggered in-cab camera solutions. The SmartDrive Review Center categorizes and prioritizes driving events on 70+ points of observations. Additionally, the analysis builds driver performance profiles so coaches can work with the right drivers at the right time.
"Driver distraction, speeding and following distance are major contributors to collisions in any fleet," says Sheltra. "With SmartDrive, we have the evidence to clearly exonerate drivers in not-at-fault collisions, which is a major benefit to the company and the drivers. SmartDrive has also proved to be an invaluable aid in anti-robbery awareness, enabling employees to capture video of suspicious persons by use of the SmartRecorder's manual trigger."
(For a look at using video for coaching purposes, the Federal Motor Carrier Safety Administration and the Virginia Tech Transportation Institute have developed an index of common driving errors and associated driving tips, which can be accessed here.)