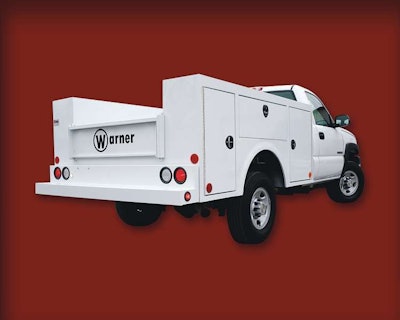 Warner Bodies introduced its Select II service body Tuesday, featuring the new FlushFinish door system.
When closed, the doors are entirely flush with the body panels and don't overlap. Recessed doorjambs, polymer seals, water management systems and drains have all been redesigned for optimal performance, Warner says. Constructed of A60 galvannealed steel, the doors offer 50 percent greater corrosion-inhibiting properties than most service body doors.
"In the past, a variety of problems have literally emanated from the doors of service bodies and Warner has set out to eradicate this at its source," says Richard Manasek, president of Warner Bodies. "We've methodically addressed the inherent weaknesses in traditional service body doors, and in the process have created a new breed of service body that is highly corrosion resistant, more secure and easier to maintain and repair."
The new body also offers security benefits, the company says.
The double-panel FlushFinish doors on the Select II are difficult to breach even with a pry bar, and are available with standard locking hardware as well as compression T-style latches for added moisture resistance.
Shelving systems are highly adjustable, and panels between compartments can be removed to accommodate longer equipment.
Beginning in January 2014, the Select II will be manufactured in Warner's new 240,000-square-foot, state-of-the-art manufacturing facility in Elwood, Ind.
Bodies will be constructed on a 600-foot-long linear assembly line, and completed bodies will be stored inside.