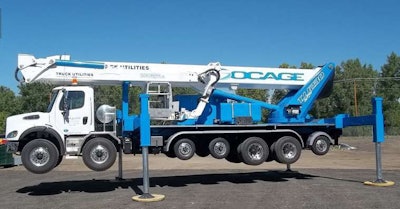 If you've never seen the heavy-duty utility truck built by Truck Utilities, Inc., you've never seen anything like it – primarily because the massive bucket truck is one of a kind.
The truck's Socage TJJ230 Aerial Lift bucket has a reach of 230 feet, supporting up to six workers at a time. The bucket also has a 100-foot horizontal side reach.
Aside from its massive reach, much of what makes this truck unique is that's its power take off isn't driven by the truck. The crane has its own CAT engine on deck, which drives all of the hydraulics.
Truck Utilities' Bob Burns says the company plans to build a second, similar unit, but is waiting for a bucket to arrive from Italy.