Just in time for this week's Put the Brakes on Fatalities Day, Bendix Commercial Vehicle Systems sends along a reminder about being safe on the road along with a few maintenance tips.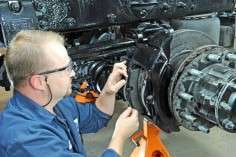 "From vehicle manufacturers and suppliers to drivers, technicians, fleets and owner-operators alike, everyone in the commercial vehicle industry can make a difference and improve roadway safety every day," says Fred Andersky, Bendix director of government and industry affairs, and director of marketing – Charging. "Every step we take is important, and our collective efforts are what will save lives down the road."
Andersky highlights recent safety statistics, and emphasizes the critical role of the driver – and driver training: National Highway Traffic Safety Administration (NHTSA) projections for the first quarter of 2013 show an estimated 7,200 motor vehicle fatalities on U.S. roads, which would mark a 4.4 percent drop compared with the first quarter of 2012. But NHTSA also estimates there were 33,780 fatalities on U.S. roads last year – a 4.4 percent increase over 2011 that ended six straight years of annual declines.
"While the advancements in today's safety technologies help improve highway safety, the first line of defense in preventing crashes has always been the driver," Andersky says. "And with more than 3.1 million truck drivers on the road, America's commercial vehicle industry is a powerful force for positively impacting the roadway safety landscape from behind the wheel. There is simply no substitute for safe drivers practicing safe driving habits, and comprehensive driver training – including the crucial firsthand knowledge that experienced drivers can share with new drivers."
Put the Brakes on Fatalities Day is an ideal opportunity for fleets and drivers to focus on the importance of upkeep, maintenance, and technical education to keep commercial vehicles on the road and in safe operating condition. Regularly scheduled preventive maintenance, pre-trip inspections, and up-to-date knowledge of braking systems are all vital to ensuring highway safety.
Bendix's pre-trip inspection recommendations include checking for leaks with a 90 to 100 psi brake application, examining brake shoes for cracks and lining thickness, and measuring chamber stroke on each wheel-end, in accordance with Technology and Maintenance Council (TMC) and industry standard practices. For foundation drum brakes, fleets should follow the manufacturer's instructions regarding the adjustment of slack adjusters.
General wheel-end inspections should also include close attention to the rubber boots on brakes, where cracks or tears can allow moisture to get inside.
Bendix also stresses the importance of maintaining brake systems with like-for-like replacement parts specifically engineered to meet the higher standards of the federal Reduced Stopping Distance mandate.
Through the development of such high performance braking systems and active safety technologies such as stability and collision mitigation systems, Bendix strives to help good, safety-conscious drivers make the roadways safer for everyone, adds Gary Ganaway, director of marketing and global customer solutions for Bendix Spicer Foundation Brake LLC (BSFB). NHTSA's RSD mandate went into full effect Aug. 1.
"The braking solutions we developed to meet and exceed these new standards mean that a range of vehicles – straight trucks, buses, and motorcoaches, as well as tractor-trailers – now perform better and provide surer, safer stops than ever before," he says.
BSFB is a joint venture between Bendix Commercial Vehicle Systems LLC and Dana Commercial Vehicle Products LLC.
To help keep fleets, drivers, and technicians equipped with the necessary knowledge of today's braking systems and active safety solutions, Bendix launched its On-Line Brake School (www.brake-school.com) earlier this year, offering easy and free access to its knowledge database and technical resources. Covering all aspects of electronics and air brake maintenance and product education, the site's documents, videos, and interactive presentation modules are updated regularly to ensure the most current information is available.
Overseen by the Transportation & Development Institute of the American Society of Civil Engineers, Put the Brakes on Fatalities Day is Thursday, Oct. 10. It was founded in 2001 to highlight ways to reduce the number of accidents on American highways.