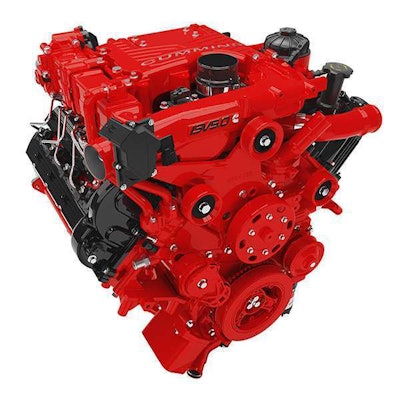 Cummins Inc. announced Thursday the launch of a new new 5-liter V8 diesel engine designed to power pickup-and-delivery vehicles, other light- and medium-duty trucks, school buses and motorhomes.
"Cummins ISV5.0 creates new opportunities for our OEM customers as a compact and lightweight engine that delivers best-in-class fuel efficiency and total cost of ownership," says Dave Crompton, Cummins Vice President and General Manager – Engine Business. "Many of our customers have asked for a Cummins alternative for gasoline or other small displacement automotive diesel engines. The ISV5.0 represents the next dimension in fuel economy and performance as Cummins continues to broaden our on-highway product line."
The ISV5.0 has been designed to fit where a comparable V8 or V10 gasoline engine was previously installed. Multiple front-end accessory drive options handle the common automotive accessories required by a wide spectrum of applications, including the alternator, air compressor, A/C compressor and hydraulic pump.
The ISV5.0 features a compacted graphite iron (CGI) cylinder block, forged steel crankshaft, high-strength aluminum alloy heads, and composite valve covers with a dual overhead camshaft design.
The engine logs peak torque of 560 lb-ft, and quick throttle response. Ratings from 200 to 275 horsepower are available.
Cummins Filtration has provided a high-efficiency coalescing filter, eliminating crankcase hydrocarbon emissions and oil mist, further adding to the clean-engine credentials of the ISV5.0, the company says.
Cummins VGT Turbocharger, cooled Exhaust Gas Recirculation (EGR) and Cummins Emission Solutions Aftertreatment System, featuring a Diesel Particulate Filter (DPF) and Selective Catalytic Reduction (SCR), result in near-zero oxides of nitrogen (NOx) and particulate matter (PM) emissions while delivering better performance and fuel economy.
"Cummins has integrated the latest technologies in the ISV5.0 to deliver performance, fuel efficiency and durability in a highly sociable package. Every day, drivers will appreciate the smooth, quiet operation of the ISV5.0," said Jim Katzenmeyer, Executive Engineer – V8 Program. "In addition, the fuel savings offered by the ISV5.0 result in fewer greenhouse gas emissions – a great environmental benefit."
Cummins ISV5.0 will serve customers in the United States and Canada, and will be certified to the near-zero NOx and PM emissions levels required by the U.S. Environmental Protection Agency (EPA). At launch, it will also meet greenhouse gas (GHG) requirements through 2016, and 2015 Air Resources Board (ARB) standards, including on-board diagnostics.
The ISV5.0, along with the 5.0L V8 Turbo Diesel for pickup trucks, will be manufactured at the Columbus Engine Plant. Production of the ISV5.0 will begin during the fourth quarter of 2014.
Nissan has already announced plans to use a 5 liter Cummins engine in its next generation of Titan pickups.