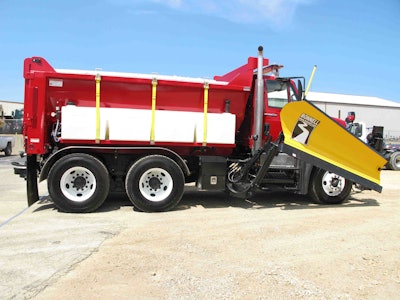 Bonnell Industries recently unveiled its all-new multi-purpose dump body, dubbed the 'Commander Series.' Available in either carbon steel or stainless steel, body lengths range from 8' to 20'.
The company says Commander Series bodies feature a fully welded prism-shape for enhanced material flow. Body shape provides exterior location for side mounted pre-wet tank systems. Rear corner posts on carbon steel models utilize corrosion resistant material standard for added durability and long life. Full underbody pan minimizes corrosion damage to underside of truck chassis.
A double-acting tailgate is actuated with an air cylinder powered over-center mechanism. Wide center conveyor discharges material to the rear of the dump body through a manually adjustable slide gate. Conveyor chain, available in either conventional chain or optional belt-over-chain, is powered with a high speed motor/planetary gearbox combination. At typical winter working speeds, the company says its Commander multi-purpose dump body is capable of dispersing up to 2 tons of material per linear mile.
Multi-purpose dump body design maintains low center of gravity by not requiring the dump body to be raised during operation to expel contents. This body is designed for both snow and ice control and traditional summer work. Double-acting trunnion mounted hoist cylinder is used for conventional dumping.
Options include cab shield, center conveyor cover, fender kits, fold-down ladder, standard or deluxe rear spreader and top screen apron.