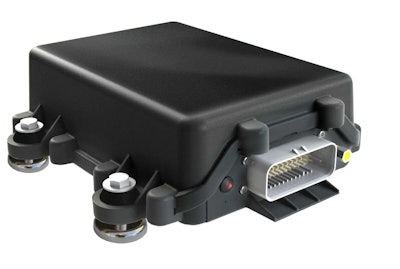 Zonar says it has released the V3R telematics platform for work truck fleets and construction equipment.
The company says its V3R features a hard casing designed to withstand the harsh shaking and shocking inherent with rough terrains, and the GPS device meets the IP67 and IP69K ratings – making it not only dust tight, but able to withstand high-pressure and steam cleaning.
The unit features sealed water tight connectors and can endure temperatures from -40 degrees to 85 degrees Celsius and will function properly in environments up to 95 percent humidity.
"The V3 telematics platform is extremely popular with contractors and construction businesses," said Chris Oliver, Chief Marketing Officer at Zonar. "Our customers requested a ruggedized version of the V3 device to help track work equipment, so we responded with the V3R."
The V3R brings 3G network GPS tracking to vehicles operating in the harshest conditions. Reports and alerts for asset location, speed, idle time and geo-fences help fleet managers monitor daily activities. The automatic hour meter, based on ignition status, helps track the need for preventive maintenance and provides data for billable hours, Zonar says.
The V3R is also compatible with Zonar's electronic vehicle inspection reporting (EVIR) system for automated visual truck and equipment inspection reporting.
The V3R integrates with all Zonar devices and transmits data from other modules and products, including electronic inspection data captured with Zonar's 2020 tablet and 2010 inspection tool. It also contains ports for up to 5 inputs, which can be used to capture events and ensure drivers are following best practices, for example by wearing a seatbelt while the vehicle is in motion.