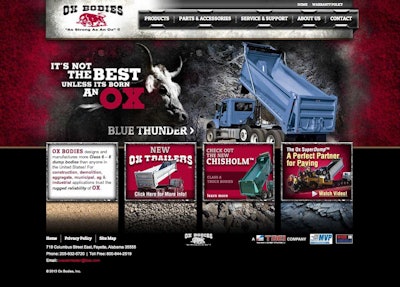 Ox Bodies recently launched a new website featuring its complete line of Class 6–8 dump truck bodies, end dump trailers, platform bodies, specialty equipment and related accessories.
The new interactive site is designed to maximize the experience for end users, providing a look at Ox Bodies' complete line of products. Visually, the site's design reflects the tough nature of Ox Bodies products and the challenging projects the equipment faces everyday.
An intuitive dropdown product menu and detailed product descriptions make identifying the Ox Bodies product that's right for a particular application quick and easy. Warranty information and new product offerings are also included on the site. In addition, product literature and technical information are available online in Adobe Acrobat PDF format.