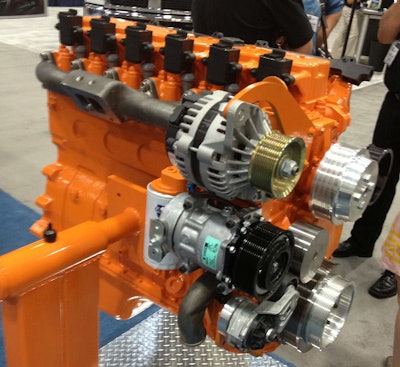 Liberator Engine Company, LLC introduced its first propane engine to the public at the ACT Expo in Washington D.C. Wednesday.
After nearly two years in development, the 6 liter propane power plant will be available in the fourth quarter this year.
Liberator President Jody Stirewalt says the the engine produces 230 horsepower and 630 foot pounds of torque and at lower RPMs that its diesel fueled counterparts.
"It's got tremendous low end torque. Tremendous pulling power," he says. "And what's unique is this engine is supercharged. This is a belt driven, gear driven internal gearbox. It's a low speed engine that can still run a high speed supercharger."
[youtube MX3hzwRN2jU nolink]
With similar power at lower RPMs, Stirewalt's bright orange propane engine throws down the gauntlet in the battle space under the hood of medium-duty trucks.
"That 33,000 GVW down to the mid-14,000 because it is a 6 liter," he says of trucks best suited for the engine. "It makes great torque for a 6 liter, but in displacement, it's a little smaller than what you might want for a Class 7."
Extracting similar power at slower RPMs was one of the angles Liberator took to gain advantages over diesel and other alternative fuels on the market.
"It doesn't take a rocket scientist to figure out that if you run your engine at 2500 (RPMs), and I run mine at 2000, and we make the same power, I will outlast your engine in durability," he says. "This engine is going to run in the 1400 RPM range when you're running 65 miles an hour. Comparable engines in the market are running 3100 to make the kind of torque and performance this engine makes."
Stirewalt says the propane engine gets between 5 and 6 miles per gallon, "about a mile per gallon under what you would see a typical diesel 6 liter turbocharged engine making."
Liberator received 12 EPA waivers to get its test engines on the road and has primarily used Freightliner's M2 chassis as for their core.
"It's a nice fit, GVW-wise," Stirewalt says. The engine is paired with an Allison 3500 series transmission.
Aside from its bright orange color, the exterior of the engine looks somewhat familiar. And it's supposed it.
Stirewalt says his company used the Cummins 5.9 liter engine as a blueprint, one of the most common medium-duty diesel engines in the world.
"This thing will fall into the engine bay with all the ancillaries of the 5.9 and also the 6 liter Mercedes, which is a big worldwide engine," he says.
And in most applications, most engine attachments will remain.
"You retain the same power steering pump, radiator even the radiator hoses…all of those things that you would commonly have already, which drives down the repower costs," Stirewalt says.
For Liberator to compete in the marketplace, Stirewalt says his team didn't look to find ways to do some things better than diesel, while making sacrifices on others. They looked to at least match it on all levels, and improve on it on others.
"We've built an engine to act like the one that it's replacing," he says. "We designed it from the ground up to be a direct competitor with diesel."
"We want an engine that will realistically do half a million miles," he adds. "A diesel can do half a million miles."
To hit the half a million mile mark, Liberator beefed up a lot of the engine's interior components, including pistons and connecting rods.
But innovation does come at a cost.
Since Liberator cannot yet produce engines on the scale of its diesel competitors, Stirewalt says the sticker price on a new engine will hover in the lower $30,000 range.
However, taking into consideration the engine won't require after treatment, he says the end price would be comparable with diesel.