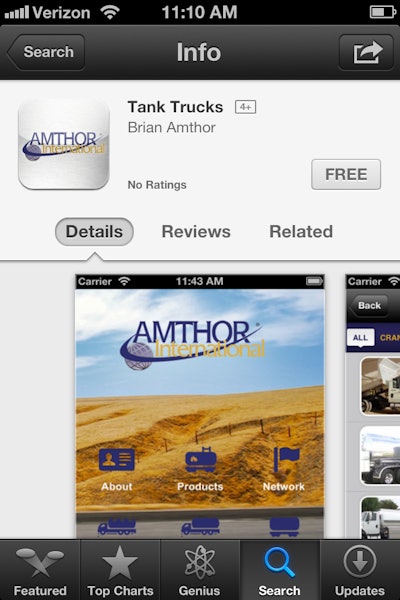 Amthor International has launched a new mobile app for iPhone and Android devices, which the compnay says will allow customers easy access to stock and equipment specs, nearest distributor locations, their Amthor Appreciation Account, product literature, social media, and more.
Using only their phones, Amthor customers will be able to inspect new and used equipment in stock, download relevant product literature, submit warranty requests, and access Amthor company information. The mobile app will also help customers search for their nearest distributor.
Additionally, the app grants users access to their personal Amthor Appreciation Account, part of the Amthor Appreciation Ownership Program set up by the company to help tank owners grow their businesses through discounts on additional tank and tank part purchases as well as sending out e-newsletters. The mobile app will also guide users through the process of financing and trading-in units.
With access to all social media sites, the app will help facilitate communication between Amthor and their customers. Furthermore, users will be able to take pictures of their tank trucks and submit them directly through the app to Amthor. The ideal next step towards operational efficiency, the company says this app is a must have for both independent truck buyers and larger scale distributors.
The mobile app is now available on iTunes for the iPhone and in the Google Play Store for the Android.