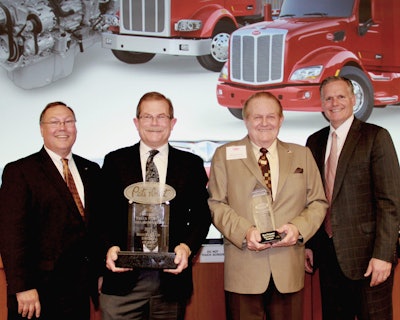 Rush Peterbilt Truck Center – Nashville was named the 2012 Medium Duty Dealer of the Year by Peterbilt Motors Company during the company's annual Dealer Meeting.
"Rush Peterbilt Truck Center – Nashville led the sale and support of the full lineup of Peterbilt medium-duty vehicles with record-breaking results," said Bill Kozek, Peterbilt General Manager and PACCAR Vice President.
The award was presented to Dealer Principals Marvin and Rusty Rush during the event held at the PACCAR MX Engine manufacturing facility in Columbus, Miss.
"This award is the result of the hard work and unwavering discipline of our medium duty sales team, as well as the dedication and expertise of all employees who deliver unparalleled customer satisfaction," Rusty Rush says.