Another California fleet has switched to renewable diesel.
Neste announced today that the City of Carlsbad in Southern California is now fueling its truck fleet with Neste's renewable diesel instead of petroleum-based diesel.
The alternative fuel, made from plant and animal waste products, will reduce greenhouse gas emissions up to 80 percent in the city's diesel fleet, which includes fire trucks, dump trucks and vacuum trucks, Neste reports.
"In the United States, California is leading the way and Neste Renewable Diesel is a solution to reduce both greenhouse gas emissions and tailpipe emissions, which municipalities can greatly benefit from," says Kaisa Hietala, Neste's executive vice president of renewable products.
"Switching to it doesn't require any additional investments on infrastructure or engine modifications. Thus, fleets can switch to renewable diesel overnight."
Neste's renewable diesel will be supplied to Carlsbad through Propel Fuels under the brand name Diesel HPR.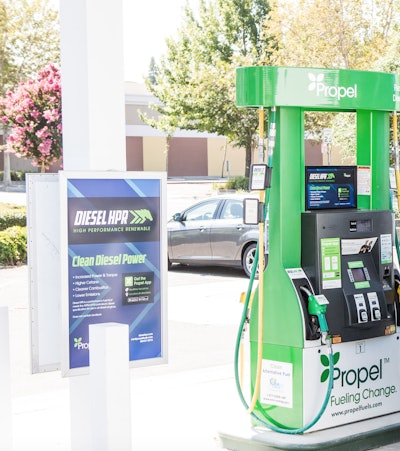 "Diesel HPR cleans the air we breathe and reduces the emissions from our city vehicles," says Steve Hodges, management analyst for the City of Carlsbad Public Works and General Services. "Propel provides access to the top low-carbon fuel in the country, allowing us to share the health and emissions benefits with anyone living in or visiting Carlsbad."
Other California cities that are now using Neste renewable diesel include San Francisco, Oakland and Walnut Creek. Google and UPS are also fueling up on Neste renewable diesel.
The State of California began using renewable diesel in its fleet statewide late last year in lieu of biodiesel and conventional diesel.
There are 34 public Propel stations listed on the company's website: 33 are in California and one is located in Seattle, Wash. Propel offers fleet incentives, such as a volume rebate of up to 5 cents a gallon. Also, its patented CleanDrive reporting system will track and report a fleet's low-emissions fuel program.
On its website, Propel states that its Diesel HPR offers a 75 cetane rating, which is 40 percent higher than regular diesel.
"This is how smart fleets immediately reduce carbon emissions and improve air quality in the communities they serve," says Rob Elam, CEO of Propel.
Renewable diesel is not biodiesel. The two fuels are derived from some of the same plant and animal fat sources, but it's how those feedstocks are processed that makes all the difference.
Biodiesel is processed through transesterification, a chemical reaction that occurs usually through the introduction of an acid or base substance which renders the biomass liquid into an oxygenated, combustible fuel.
Neste, the largest supplier of renewable diesel in the U.S., uses a patented hydrogenolysis process to transform that same biomass liquid into fuel. It's also known as hydrotreating in the petroleum industry. Neste produces renewable diesel in Europe and Asia.